Finally, the E Street Band Induction is happening! The band be inducted into the 2014 Rock & Roll Hall of Fame for "Musical Excellence". So, I decided to take a spiritual journey down to the Jersey Shore by Belmar to check out where it all began. I don't why I waited so long but I guess its one of those thing that always gets put on the back burner.
And yes I am on the corner of E Street & 10th Avenue.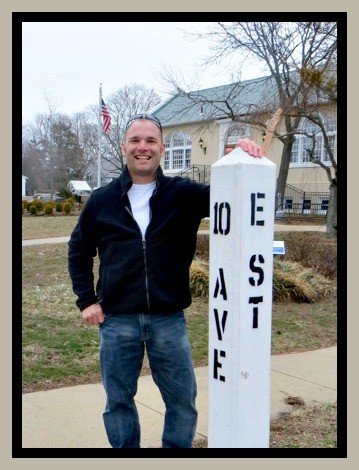 In 1972 the original members "Phantom" Danny Federici (keyboards, accordion), "The Tennesee Terror" Garry Tallent (bass), Vini "Mad Dog" Lopez (drums), Clarence "Big Man" Clemons (saxophone), would meet at David Sancious (keyboards) home at 1107 E Street. They would practice in his parents garage which was squeezed between the house and southside fence. And NO, Southside Johnny didn't get his name by hanging out by the fence. During the early years Vini Lopez was asked to resign and was briefly replaced by Ernest "Boom" Carter. 1974 is probably a point in time that would change the Band forever because Carter, Sancious, and briefly member Suki Lahav (violinist) would leave the E Street Band to go on new careers. This left a huge hole in the band, that would be filled by the Legendary "Professor" Roy Bittan (keyboards) & "Mighty One" Max Weinberg (drums). Bruce's long time friend/song writer/previous band mate "Miami" Steven Van Zandt (guitar, vocals) was asked to join the band in 1975.
The E Street band remained the same up until 1984 when Van Zandt took a leave of absence, which was quickly filled with "Lefty" Nils Lofgren (guitar, vocals), & his now bride, "Red" Patti Scialifa (guitar, vocals). From this point on the E Street Band has grown through out the years with violinist, Soozie Tyrell, "Miami Horns" Richie Rosenberg (trombone) & Mark Pender (trumpet) and with the passing of Clarence, his nephew Jake Clemons replacing him on the saxophone.
I know there are a lot more new members of the band currently, but my point here is to reminisce about the past. Being from Jersey, I have been so fortunate to just jump in the car an hour before a show, like the time at Madison Square Garden in New York City and score tickets in the PIT (floor standing room area), which could only be explained as some sort of religious experience for any Bruce fan. Unlike most bands who act like you should be thrilled to be in their presence, the E street Band looks thrilled to be in ours.
I know all good things come to an end but I think the Boss has figured out a way that the Band will live forever by the ever growing family that is now the E Street Band.
"So tonight rest assure that, Sparks fly on E Street when the boy- prophets walk it, handsome and hot
All the little girls' souls grow weak when the man-child gives them a double shot
The schoolboy pops pull out all the stops on a Friday night
The teenage tramps in skin-tight pants do the E Street dance and everything's alright
Little kids down there either dancin' or hooked up in a scuffle
Dressed in snakeskin suits packed with Detroit muscle
They're doin' the E Street Shuffle"
CONGRATULATIONS! E Street Band 2014 Rock & Roll Hall Of Fame INDUCTEE, and yes I am still that old guy down in the PIT, waiting for Bruce to tell me "You've just seen…the heartstoppin', pants-droppin', booty shakin', earth quakin', love makin', viagra takin', history makin', Legendary E STREET BAND".
It just NEVER gets old.
Ok -maybe I have problem, but it's an awesome problem to have!