Back in September my family and I had the most amazing lunch at the Hard Rock Cafe at Yankee Stadium, we do get there often, but this lunch was the best we've ever had.
I tried to get to as many Yankee games as I could this season.
My son is a huge Derek Jeter fan so he had a mission to see as many of his last games as possible. And I got him to a whole bunch of them.
We even took a road trip to Boston to see Jeter play for the last time at Fenway, what a great way to end the summer!
My wife and I took the kids to one of the last Jeter games at Yankee stadium and we were lucky enough to get treated to lunch at the Hard Rock Cafe. It was amazing – the manager Theresa and the wait staff couldn't have been nicer. And the food just kept on coming…
Lunch at Hard Rock Cafe is always good, I'm actually there at the one at Yankee Stadium a lot. But right now, Hard Rock is in the middle of their annual "Pinktober" campaign in the fight for Breast Cancer awareness, so every time you order one of their signature Pinktober items on the menu (or the bar menu) it will benefit various breast cancer awareness charities.
You can order the tasty "Flight for a Cure" margarita flight like the wife did –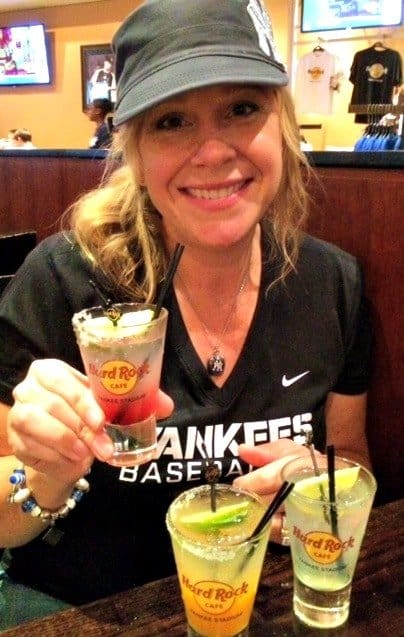 The cocktails were amazing, but lunch was even better!
We started out with this bruschetta because I love the stuff – and the Hard Rock is serving it up right! Of course the kids dove in first…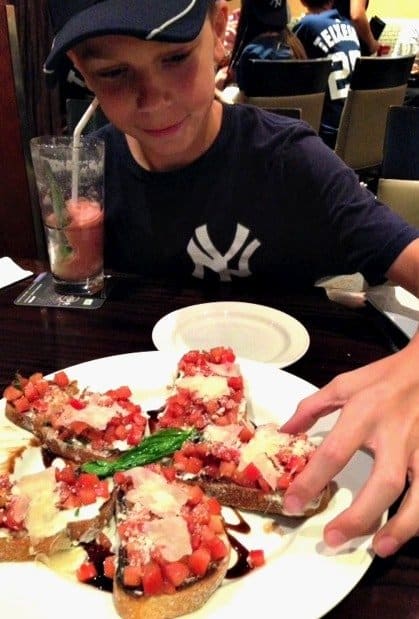 We ordered a variety of lunch entrees…salmon, fajitas, burgers…we tried to get a bunch of different things that we could all share.
Then came the desserts.
We were a week to early to try the Pintktober Red Velvet Cake but we did get a huge slice of house-made oreo cheescake that we were all "too full" to eat.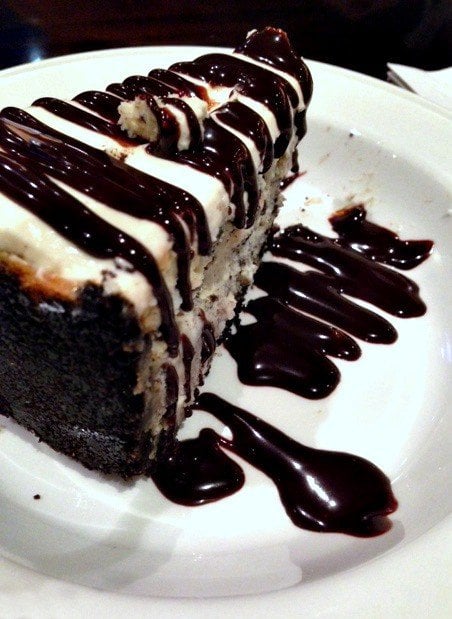 But we managed to get it down!
Then out came the boozy milkshakes.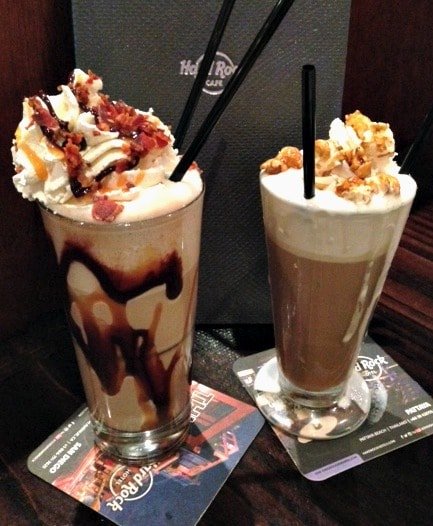 It's funny how you think you're SO full…and then a boozy milkshake appears and all of the sudden you're sucking down a candied bacon bourbon filled milkshake. Who could say no to that?
We gave the kids the rest of the cheesecake for themselves.
It was a beautiful September day, an awesome game and an unbelievable lunch.
So next time your looking for a place to eat lunch or dinner check out your local Hard Rock Cafe and help "Raise the Bar" for breast cancer awareness.
And definitely save room for a boozy milkshake!