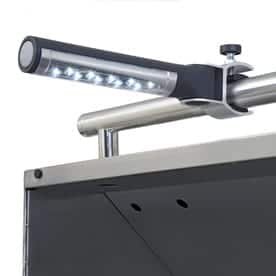 I'm keeping with the grilling theme this week and giving away this Grill Light giveaway!
It mounts right onto the handle of your grill and gives you the power of ten LED lights.
I like to grill year-round and where I live it can get really dark very early during the fall and winter months. We don't even have street lights to light things up at night. So when I say it's dark -it's dark.
Even when I turn on all the outside lights, it's still hard to get a good look at what's on my grill. Holding a flash light seems to be the only option to really get a good look but with one hand on the tongs, I need a free hand for a beer…so that option is out.
This Grill Light is the perfect solution for night-time grilling. Especially if you live out in the country like I do.
Try cooking up my Tailgate Steak Sandwich or some Grilled Halloumi Cheese Kabobs for your next barbecue with your new Grill Light. You'll thank me when your filet comes out perfectly instead of too rare or too well done because you couldn't see the thermometer in the dark.
I'd love to hear about your favorite recipes for the grill, send them into me or tell me what you'd like me to try next!
Good luck!
Giveaway Ended.