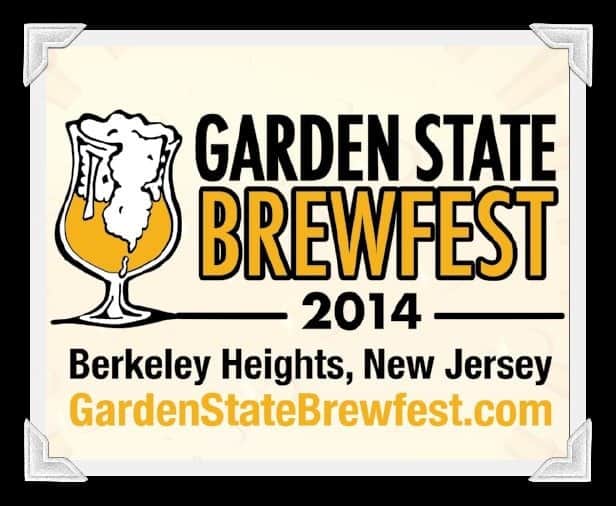 When I started Mantitlement last December one of the trips I knew I wanted to take was out to the 2014 Garden State Brewfest. Then I decided that instead of being a guest at the third annual Garden State Brewfest in Berkeley Heights, NJ that I would sign up to volunteer instead. What could be a better way to meet people than to be pouring them a beer?
When I arrived on the morning of May 10th at the festival I meet Rob Staats, one of the key people behind the Garden State Brewfest. From meeting him and being shown around the festival I knew right away I had made the right choice in volunteering because I got to see and meet so many different Brewing Companies all in one event!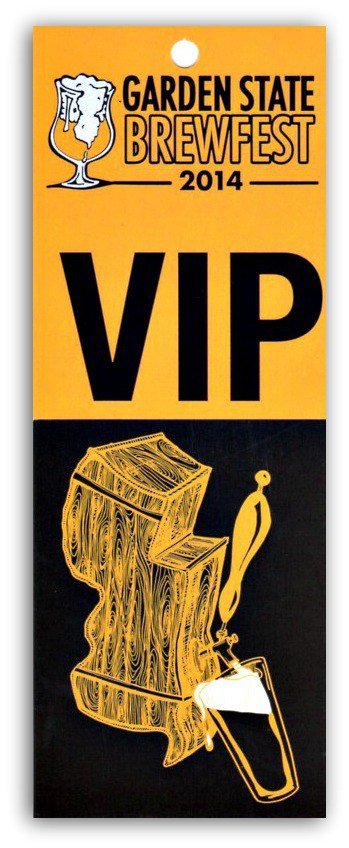 The day started off by working the VIP tent, which by the way had an amazing menu done by Brew Chef Tim Schaffer. To make your stomach growl a bit, I'll list a few of the selections… there was a Bobolink Dairy Cheese Station, Turkey Meatballs with Honey Luau Sauce, Arugula, Radicchio & Belgian Endive Salad, Brown Ale Braised Bratwurst & Caraway Kraut, Maine Lobster Rolls (which were ridiculous) and for dessert there were Sweet Baby Jesus Brownies & Beerimisu (layers of Espresso and Stout soaked lady fingers, Founders Rubaeus enhanced Mascarpone Mousse and whipped cream) just to name a few…even if you're not a fan of beer for some strange reason, just go for the food!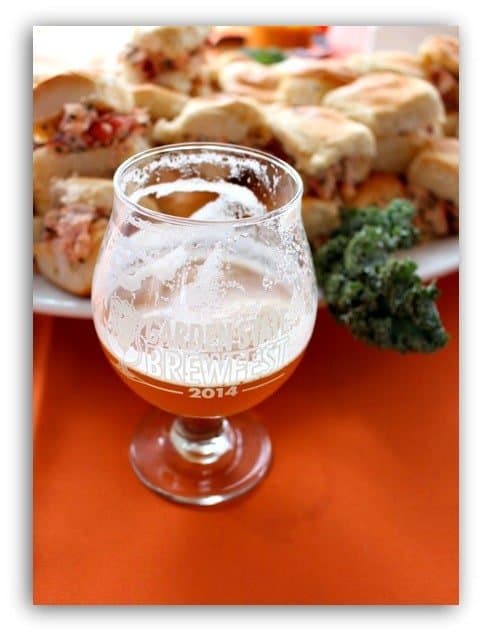 Oh and did I mention the Secret Stash Beers in the VIP Tent? Rodenbach – Vintage 2011, Brooklyn Brewery – Cuvee Noir, Boon – Oude Gueze, Dogfish Head – 61 Minute & Captain Lawrence – Seeking Alpha.
When the VIP tent was just closing up, the doors opened up to general admission to officially open the 2014 Garden State Brewfest's main tent with well over 60 Brews on Tap. It's incredibly hard with so many great beers to single any one in particular out, but from talking to and watching all the people there, I think I can say that New Jersey's Brewery Flying Fish and it's NJ 350 Brew really won over the crowd.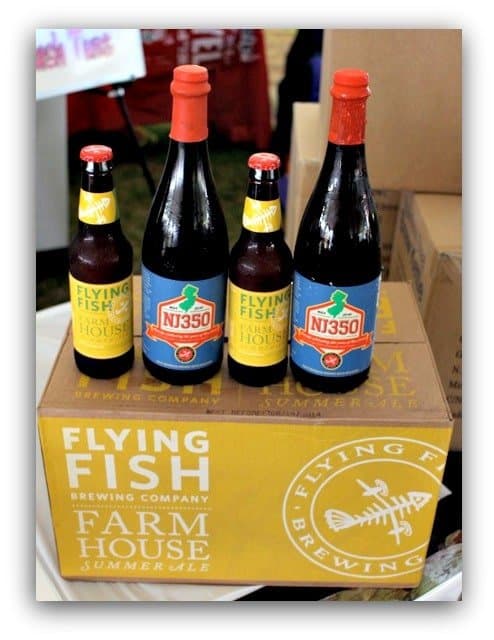 The NJ350 beer uses English pale malts and flaked barley meld with blackstrap molasses which gives it its malt flavor. They used Cluster hops, which is the first hop cultivated in the US. The beer finishes with more modern hops – Simcoe and Centennial. These hops give the NJ350 a piney flavor and aroma, their nod to a state treasure – the Pine Barrens.
But the beer that got my vote was from Slyfox Brewing Company out of Phoenixville, Pennsylvania.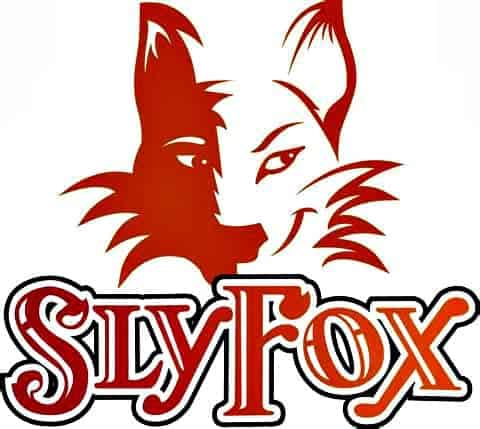 Their Raspberry Reserve 8.0% brew, which is an unforgettable wheat ale brewed with German Pils and wheat malts and traditional hops, with 1lb. of red and black raspberries per gallon of beer. It has a distinctly tart finish and a sugary sorbet aroma.
It gets 5 stars from me…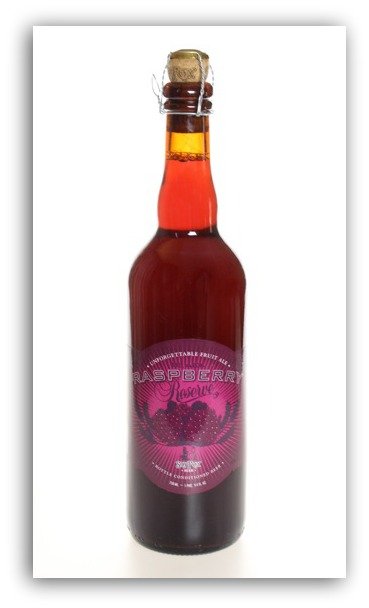 That's what's so great about going to this type of function, it's probably not a beer that I would have ordered if I were out somewhere, but after tasting it I can say it's one of my favorites now. They joke on the Slyfox website that you have to be a "secure" man to say you love this beer…well I guess I am, because I do!
Ok so maybe I forgot to mention that I was lucky enough to be stationed at the Slyfox brewery table and help serve their brews. It was a good day…
But I'm also going to brag a bit and report that I was the first to serve all the Slyfox beers and kick my kegs. I'm a hard worker, what can I say?
Overall my experience at the Garden State Brewfest was something that I would highly recommend to any beer lover looking for a new Brew to sample or to meet people in the Tri-State area that are really passionate about their craft.
I am definitely going to volunteer again next time just to be able to hang out with these guys again…because I can tell you first hand, they definitely know how throw one hell of a party.