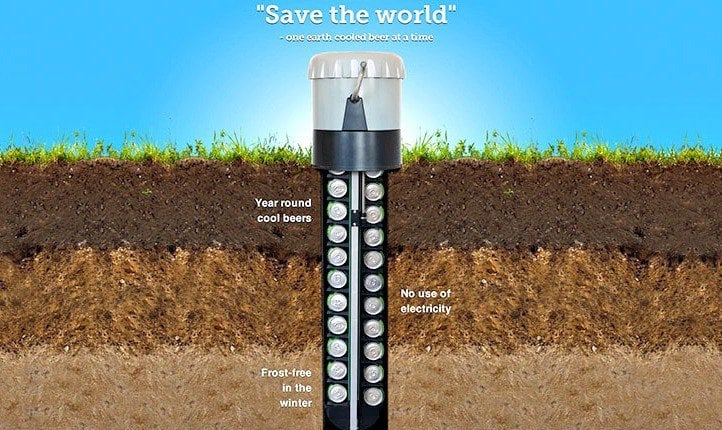 Saving the Earth by drinking beer? Well, that's one you can sign me up for.
It's not really "drinking" the beer though, it's how you store your beer. With the eCool In-Ground Cooler you don't need to take up all your refrigerator space (OK, well half of it) with your beer. Or have an entire second refrigerator in your garage just for storing your beer.
Honestly I haven't thought about the wasted energy much at all until I saw the eCool In-Ground Cooler. This might be bad of me to say but I think it's just pretty damn cool…with the added bonus that your getting yourself off the grid just a little.
What this cooler does is use the cool temperature of the earth to keep your beer at it's best.
Ice cold – that's beer at it's best.
And don't you hate it when you get ready for a BBQ at your house and you've been running around doing errands and cooking for two days…then all of the sudden you realize you forgot to grab the ice? Or you might have remembered the ice but you just run out cause it's 90 degrees in the shade that day?
The eCool Cooler holds a case – yes – a case of beer at a time. And when a few are gone, you can start feeding warm cans in to get cold. It doesn't seem like you'd ever run out of space!
Yes, you do have to dig a hole in the ground. But only once and it's done and then it will then forever be your in-ground beer cooler. Dig it right next to your deck or out by your pool. You'll never have to run out for ice again!
Just sit back, relax and drink your perfectly earth-cooled beer.