OK so here's another gadget-y wine opener. There are so many types of fancy bottle openers out there, it's not all that exciting. But then I realized this Coravin™ System was different.
Like I said, there's a lot of bottle openers out there that make opening wine bottles "easier". Electric kinds or some that have an air pump…I just don't think opening bottle of wine is really all that difficult. We just use the standard corkscrew in our house. Nothing fancy. Gets the job done.
But this Coravin™ wine opening system is different. It's not really a wine "opener", it actually opens the bottle without removing the cork. How is that possible you ask? Well, I had no idea either so I went to the website and read all about it.
I found out that what is does is insert a thin, hollow needle into the cork, then it pressurizes the wine, and pours out a glass for you. Once you're done pouring a glass, you can remove the needle and the cork seals itself up again. Pretty cool, right?
I'm not a big wine drinker but I know for those of you who are…this would be a great thing to have around. You could have a glass of shiraz one night with your steak and then chardonnay the next night with your fish and not be locked into one bottle. I know if you're anything like my wife, the opened wine is only good for a 2-3 days before it starts to taste off. Then whatever hasn't been finished gets thrown away.
This Coravin System will run you about 300 bucks, which isn't cheap but if you factor in all that you would be saving by not dumping those "one glass left" bottles down the drain…it could end up saving you a few pennies. You can enjoy your favorite bottles of wine for weeks or even months after using this system.
So the next time you need a gift for the wine lover in your life, when you can't think of what to get the person who already has it all, get them the Coravin System.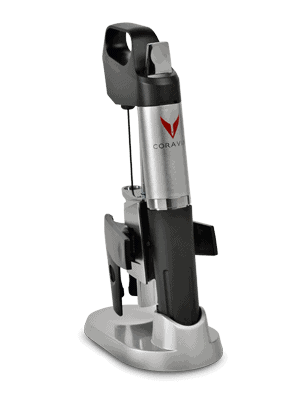 Then hopefully you can have whatever wine you want when you go to their house.