How about a Beer Can Chicken Roaster for grilling season? Everyone loves chicken on the grill and it's made even easier with this simple tool!
Grab one for yourself today and make our perfectly seasoned, incredibly juicy Beer Can Chicken Recipe!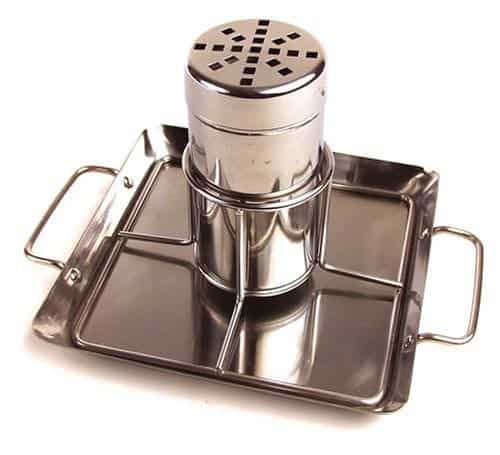 Have you guys ever tried a Beer Can Chicken Roaster? Well we have and I'm going to tell you, they are pretty awesome. Two of my favorite things combined…grilling and beer. What's better in the summer?
What Does A Beer Can Chicken Roaster Do?
When you roast a chicken with beer, the steam from the beer (or any other liquid) keeps the chicken much juicier than just grilling alone. Also, when you keep the bird upright like in this roaster it helps make the skin super crispy and the fat drains down into the pan instead of sitting on the chicken.
You can even use the bottom of this roaster for wood chips if you want to put your chicken in a smoker. Add herbs, wine, chicken broth or whatever you want to flavor your chicken and get it on your grill. That's an easy chicken recipe that I'm going to hang on to.
The whole roaster, insert and all can be thrown into your dishwasher when your done, so there's not a lot to clean up either!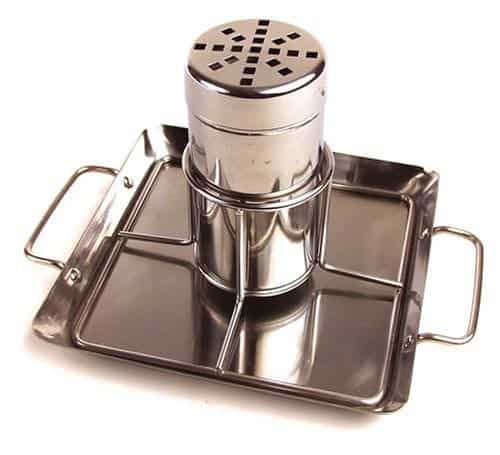 You can also add potatoes or vegetables to roast on the bottom while your bird cooks – those are going to be some flavorful vegetables, let me tell you.
This Beer Can Chicken Roaster here is only about 25 bucks, and seeing as we use it all the time it has definitely paid for itself. Did I mention that you can also add other liquids to this roaster?
Try white wine or chicken broth or even root beer! That's something I've got to get on the site here, a recipe for root beer chicken. Now when you're done eating this delicious, juicy chicken, don't forget to use those bones to make soup!
Follow our Homemade Turkey Soup Recipe and obviously just swap out the turkey for chicken, and the amount of ingredients you add will be less. But same concept. Or if you just want to use the leftover chicken you can make our Turkey Noodle Soup instead, replacing the turkey with your leftover chicken.
Looking For Recipes To Use With Leftover Chicken?
The list goes on and on here folks. All you need to do for more ideas is head to our Chicken Category under the Recipes menu and look for more dinner inspiration! There's everything on there from soups, to casseroles, to chicken salad and pasta recipes.
Leftover chicken is a wonderful thing to have in your refrigerator for easy chicken dinners that the whole family loves! Our boys love using leftover chicken for quesadillas or just wrapping in tortillas with lettuce and cheese.
I have to tell you, cooked chicken in our refrigerator never seems to go to waste!
Shop This Post!