The BBQ Dragon is the best way to start your charcoal fire quickly! You'll be grilling and smoking in no time with this fire starting tool!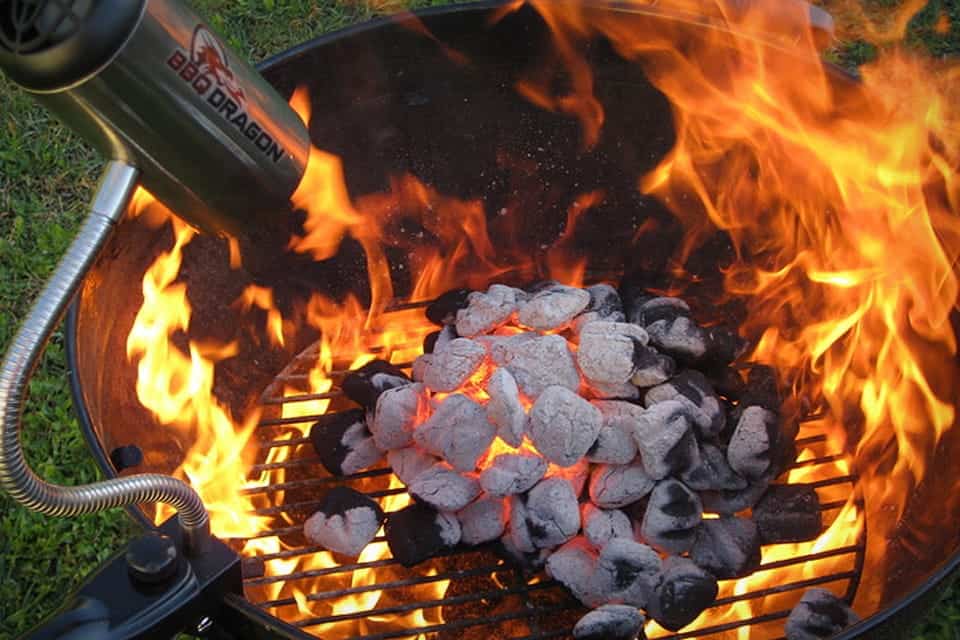 This BBQ Dragon Fire Supercharger
will get you using your grill a lot more…
Can you tell that I'm excited for summer to start? Grilling is the way to go- not so many pots and pans to clean, being outside more in the nice weather. And food just tastes better on the grill.
We all love to grill, especially on a charcoal grill. You get the real flavor of barbecuing, some guys I know won't grill on anything else.
But in our constantly moving fast-paced world we live in, having an hour to get your coals ready isn't always an option.
That's why you need the BBQ Dragon. It will start the flame going on your charcoal grill in ten minutes. No more prepping the grill for 45 minutes, or dealing with the way that the wind is blowing that day.
The BBQ Dragon has a variable speed motor that allows you to control the amount of air that you need for your fire – turn it up high for a bonfire on a beach or turn it way down low for your indoor fireplace or your smoker. It won't blow ash all over either because the fan blows the cool air at a low velocity.
One of the cool things this gadget does is start outdoor pizza ovens in half the time – I do have a friend that built a pizza oven in his backyard, which is good for me, delicious homemade pizza that's only about a block away. But he does say that it takes a long time to get the fire going and at the right temperature.
It would be interesting to test it out over there and see how well it works. Then maybe he could make us up some more pizza…
This would be the perfect gift for anyone who loves to grill, or just for yourself to make your life a little bit easier.