Just popping in with a quick review on Angry Orchard Iceman! I found this hard cider recently and it's turned into one of my favorite drinks!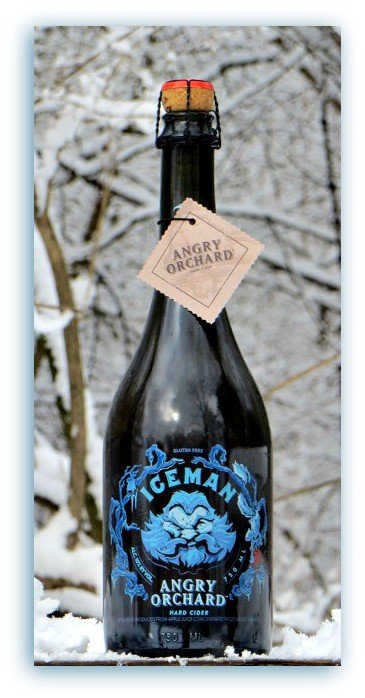 Angry Orchard Iceman Review
The other day I came across an article about Angry Orchard Iceman. I had been drinking some of the different flavors of hard cider that Angry Orchard has and I have to say I really like them. I'm usually a beer drinker, but I've been trying to move into other territories lately -got to make sure I'm not missing anything.
But what was all this "Iceman" hype all about?
I went to a couple of liquor stores in my area and couldn't find it. Both places I went to were all sold out. Of course that just makes me all the more determined to get myself some, so I kept on going.
I went to a few more stores, but didn't end up getting any Iceman that day.
So, instead when I got home I looked up the review on the Angry Orchard website and this is what it says:
"Inspired by the tradition of Ice Ciders in Quebec, Iceman uses the process of freezing the juice from culinary and bittersweet apples to produce a rich, complex and unique cider with a crisp apple taste and notes of caramel and toffee. This cider is sweet but not cloying. The addition of oak-aging yields a smooth and pleasing vanilla character. The result is a perfectly balanced, full-flavored cider that delights the palate with clean apple notes and a lingering toffee finish. 10% ABV"
Basically they partially freeze the juice before they ferment it, then the frozen water is removed to make a more concentrated cider than the regular ciders they have on the shelves.
Very interesting…
Day 2: I had to run to the grocery store for some milk, bread, the basics. There is a pretty large liquor store next to the ShopRite where I go so I figured, what the hell, might as well try to find some Iceman.
Good ol' ShopRite, they had it! There was one bottle left and the manager said it flies off the shelves, so I was lucky to get it.
Yes, I was. It was a lucky day.
I did read that it's a "sipping cider" so I poured it into a nice glass and had myself a "sip". Wow, I have to say, it was really good. It's slightly carbonated and not too sweet. You can definitely taste the caramel in it, and I usually don't find myself tasting all the "notes" that reviews tell me are in the things I'm drinking. My only problem was that although I was lucky enough to get one bottle…it was one bottle.
Everything in moderation I guess.
I'll definitely be getting some more Angry Orchard Iceman when I see it next -let me know if you guys find some and if you like it too!