Thai Peanut Brussels Sprout Slaw
Add this Thai Peanut Brussels Sprout Slaw to your BBQ party menu! Shaved Brussels Sprouts get tossed with a creamy, peanut dressing that will add flavor to any meal!
All the BBQs and cook outs happening for the Fourth have our taste buds craving for food. Potato salad, pasta salads and coleslaws are a staple for side dishes…but this time why don't you try something new?
New flavors and twists on recipes are always the ones that get people talking and asking you for the recipe. Not that the classics aren't good too, but everyone already has those recipes, right?
This Thai Peanut Brussels Sprout Slaw just the kind of recipe I'm talking about. A crispy, crunchy slaw made with brussels sprouts instead of cabbage, and a thai peanut sauce instead of a mayonnaise based sauce.
There is a little mayo in here but it's mostly about the peanut sauce.
With me so far?
OK, so easiest thing to do is to buy the sprouts already shaved, but if you can't find them that way a food processor works great. Just a press of the button and you're all set.
Now add shredded carrots and chopped scallions…
Pour on the peanut sauce…
And toss.
This Thai Peanut Brussels Sprout Slaw is best tossed at the last minute but it will keep for a couple of hours in the fridge too. Just make sure to stir it up before serving.
Now we've got the side dish – what are you serving with it? Ribs, chicken, steak? My vote for Fourth of July is always ribs but any of those main dishes will go great with this slaw.
There's some cayenne pepper in the peanut sauce so you can add as much or as little as you like, it depends on how spicy you want it to get!
I'm thinking with a few beers on the side to go for the spice. Just gives you an excuse to grab another beer!
Print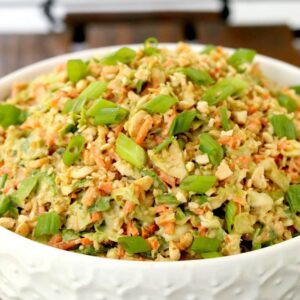 Thai Peanut Brussels Sprout Slaw
---
Ingredients
32 oz. brussels sprouts, shaved or sliced thin
10 oz. bag shredded carrots
1/2 cup scallions, chopped
1/4 cup each chopped peanuts and scallions for garnish
For the Peanut Sauce
1 cup creamy peanut butter
2/4 cup soy sauce
1 tablespoon fresh ginger, grated
3 tablespoons brown sugar
1/4 cup fresh lime juice
2 garlic cloves, minced
2 tablespoons mayonnaise
1/2 – 1 teaspoon cayenne pepper
1 cup pineapple juice
---
Instructions
Place the brussels sprouts, carrots and scallions in a large bowl.
Add the peanut butter to a microwavable bowl and heat for 30 seconds in the microwave so it will soften and stir easier.
Add the rest of the sauce ingredients to the peanut butter and whisk well to combine.
Pour the sauce over the brussels and carrots and stir.
Top with chopped peanuts and scallions and serve immediately.