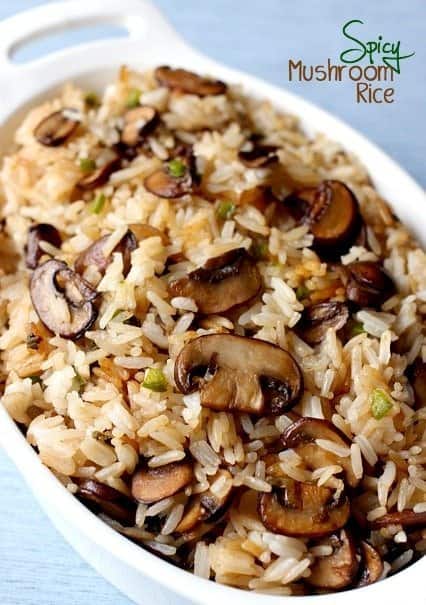 Before you think this Spicy Mushroom Rice is just another average side dish, just give me a minute and let me explain how good it is.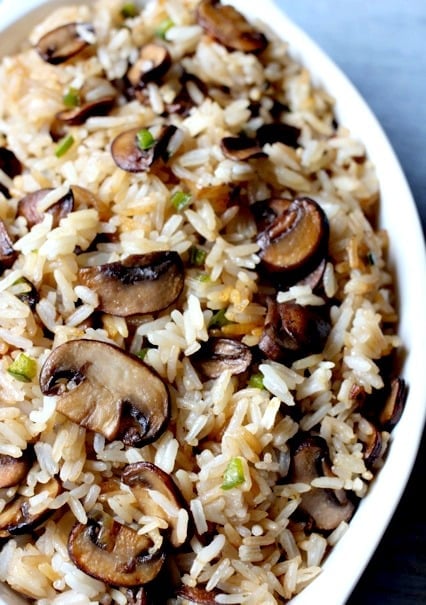 It's like the side dish that can turn into the whole dinner good. Just double the recipe when you make this because the leftovers are amazing.
You could add shredded chicken to the leftover rice, ground pork or beef and a little teriyaki sauce…or some black beans too keep it vegetarian.
You have to let the mushrooms get nice and browned, that's definitely key to this recipe. As far as the "spicy" goes, I stuck to one jalapeño for this recipe but I definitely wouldn't stop at one next time.
2 for sure, maybe even three.
Thanksgiving is crazy enough with the turkey and appetizers – this Spicy Mushroom Rice recipe is an easy to make (and make-ahead) side dish you won't have to think about on the big day.
Wash your mushrooms, or brush them with a wet paper towel as they say, I'm not gonna lie – I wash them. Have you ever seen how much dirt is on those things? I don't think a damp paper towel really gets them clean.
Slice them up pretty thin and throw them in a skillet with a couple tablespoons of butter. Let them brown up really good, this will take about 10 minutes.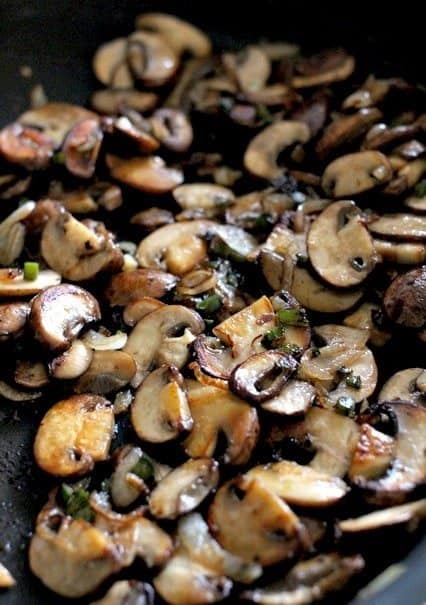 Next add in a sliced shallot, the jalapeño, salt and pepper and cook a few more minutes.
Pour in marsala wine (the real stuff, it's only like 8 bucks at the liquor store do don't buy the cooking wine in the grocery store) and soy sauce.
Stir in your cooked rice then give it a quick taste test for seasonings and you're done!
This Spicy Mushroom Rice can be heated up in either in the oven or the microwave just before dinner. One less thing you have to worry about Thanksgiving Day!
Watch and see how easy this is to make!
You'll never want plain rice again after trying this Spicy Mushroom Rice!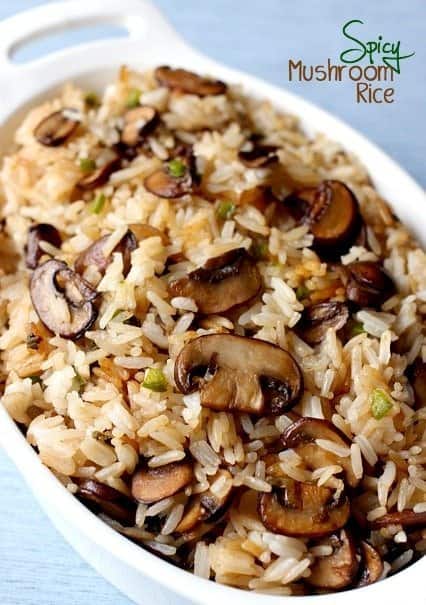 Print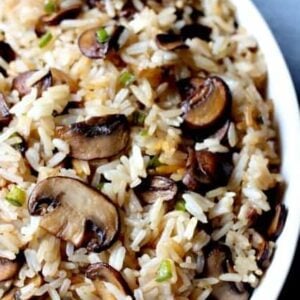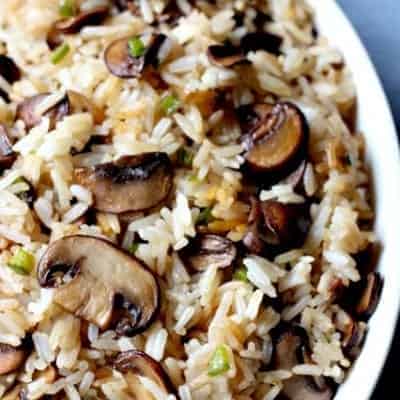 Spicy Mushroom Rice
Author:

Yield:

4
---
Ingredients
4 c. of cooked white rice
10 oz. white or button mushrooms
2 T. butter
1 shallot, sliced
1 jalapeno, diced
1/4 c. marsala wine
1 T. soy sauce
1 t. salt
1/4 t. fresh ground black pepper
---
Instructions
Start by melting the butter in a large skillet over medium-high heat.
Add in the sliced mushrooms and let brown, stirring, for 10 minutes.
Next add the shallot, jalapeño, salt and pepper and let cook for another minute or two.
Deglaze the skillet with the marsala wine and let reduce for 2 minutes.
Add the soy sauce and stir, then add the cooked rice.
Stir together and then season with more salt and pepper to taste if needed.
---
Notes
Add a few splashes of chicken stock to re-heat if you're making this ahead of time.