Sesame Shrimp Bites with Lemon Aioli
If you're looking for a light appetizer that doesn't lack in flavor look no further than these Sesame Shrimp Bites with Lemon Aioli. Sounds fancy right? Just a few steps and dinner is on!
Shrimp Bites. Not Shrimp Balls. Or shrimp meatballs. I mean, yes they are balls of shrimp – but that doesn't sound so nice.
So Shrimp Bites it is, Shrimp Bites with Lemon Aioli just to make it sound even nicer.
And yep, they're baked not fried so you don't have to feel bad about eating bite after bite.
The filling is easy to put together, everything goes into a food processor and after a couple of pulses you're good to go. Just some shrimp, scallions, and egg white and some seasonings.
Form the mixture into golf ball size…balls…and roll around until completely coated in a mixture of panko bread crumbs and black sesame seeds.
While the shrimp bites are in the oven you can stir together the aioli. Aioli is just a fancy word for a kicked up mayonnaise sauce. Just mayo, lemon garlic and dijon, then add salt and pepper to taste and you're done. Fancy aioli sauce. If mayonnaise isn't your thing you could also serve these with a teriyaki sauce or a cocktail sauce.
After about 15 minutes in a hot oven these shrimp bites will be browned and crispy. Dig in and enjoy!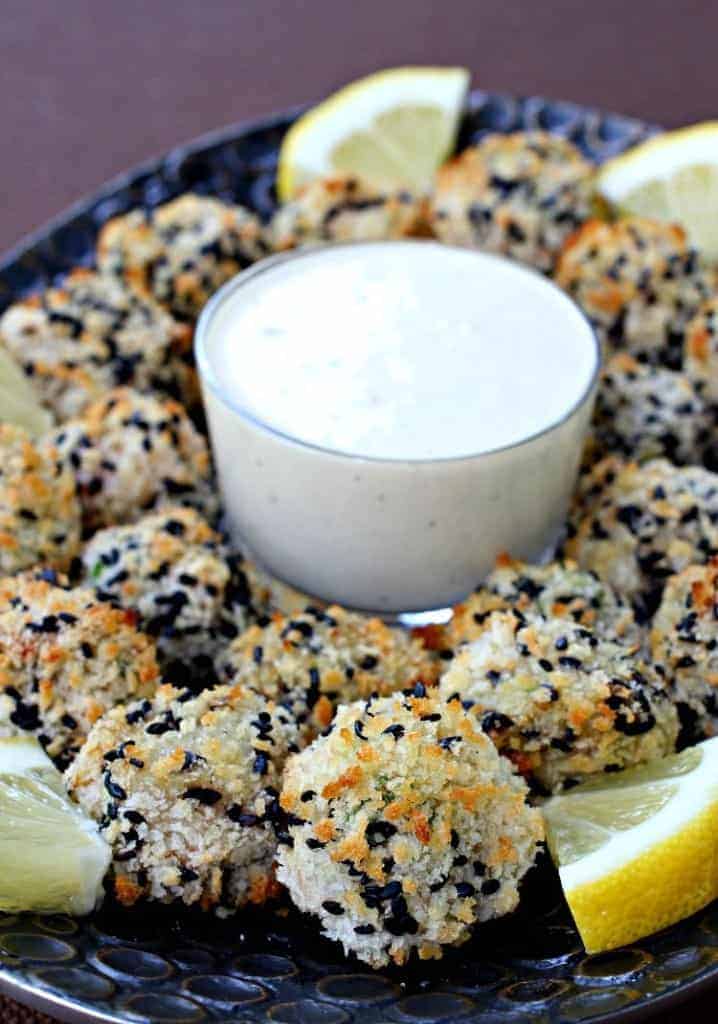 Print
Sesame Shrimp Bites with Lemon Aioli
Author:

Yield:

24
---
Description
A baked, crispy appetizer that's heavy on flavor and light on calories!
---
Ingredients
For the Shrimp Bites
1 lb. shrimp, peeled and deveined
1/2 teaspoon garlic powder
1/2 teaspoon salt
1/4 teaspoon ground black pepper
1 egg white
2 scallions, chopped (green part and half of the white)
For the coating
1 cup panko bread crumbs
2 tablespoons black sesame seeds
For the Lemon Aioli
1/2 cup mayonnaise
2 tablespoons lemon juice
2 cloves of garlic, minced
2 teaspoons dijon mustard
salt and pepper to taste
---
Instructions
Preheat the oven to 450 degrees. Make sure your oven is really clean before cranking it up!
Combine all the ingredients for the shrimp bites into a food processor. Pulse 3 or 4 times until well mixed but still slightly chunky.
Mix the panko and sesame seeds together in a bowl.
Roll the shrimp mixture into balls the size of golf balls then roll into the panko/sesame mixture until totally coated.
Place on a baking sheet and repeat with the remaining shrimp mixture until you have about 24 shrimp bites.
Bake for 15 minutes until the centers are firm and cooked through.
While the shrimp bites are baking mix together the ingredients for the lemon aioli.
Serve the shrimp bites with the lemon aioli on the side for dipping.