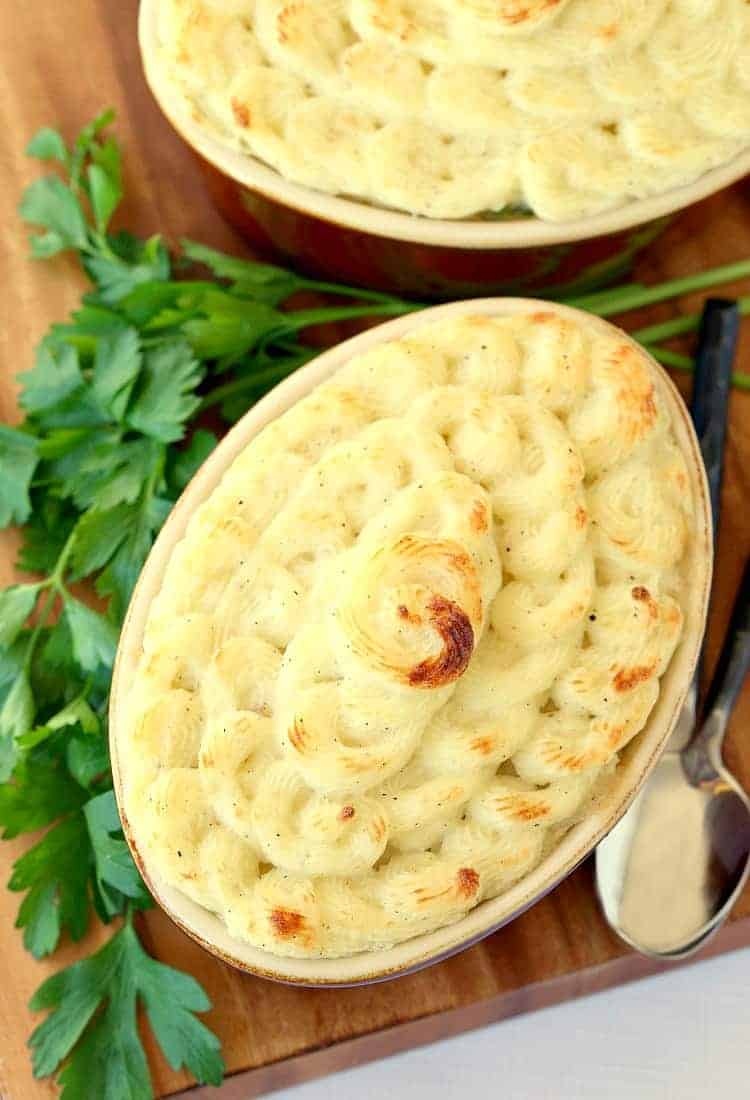 Leftover Turkey Shepherd's Pie
Make this Leftover Turkey Shepherd's Pie with your leftover turkey from Thanksgiving! Turn your turkey into a totally different meal with only a few steps!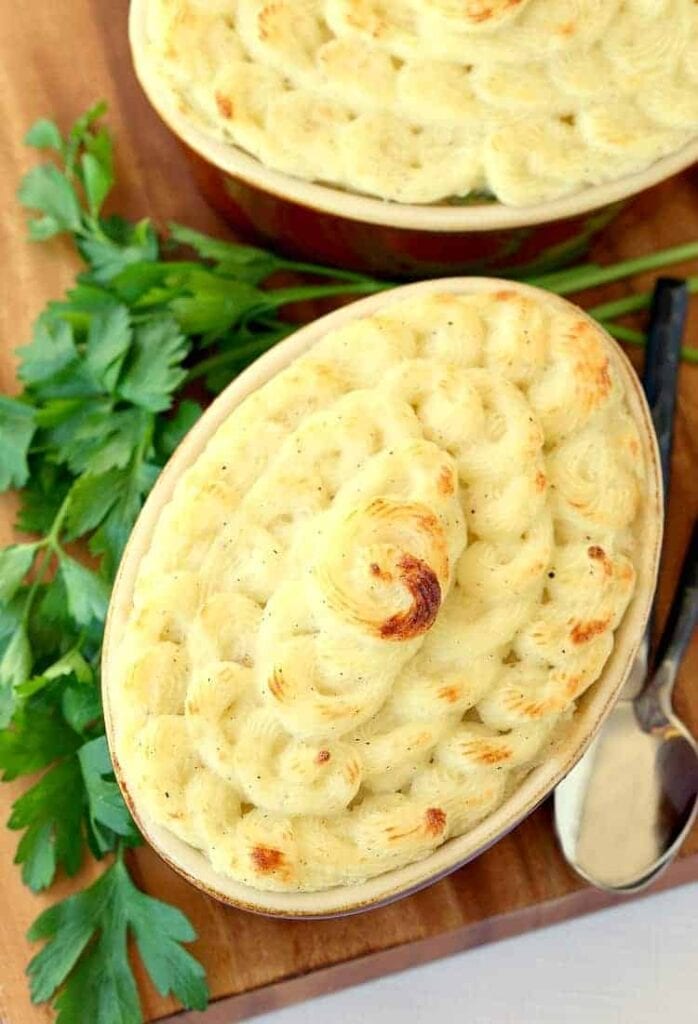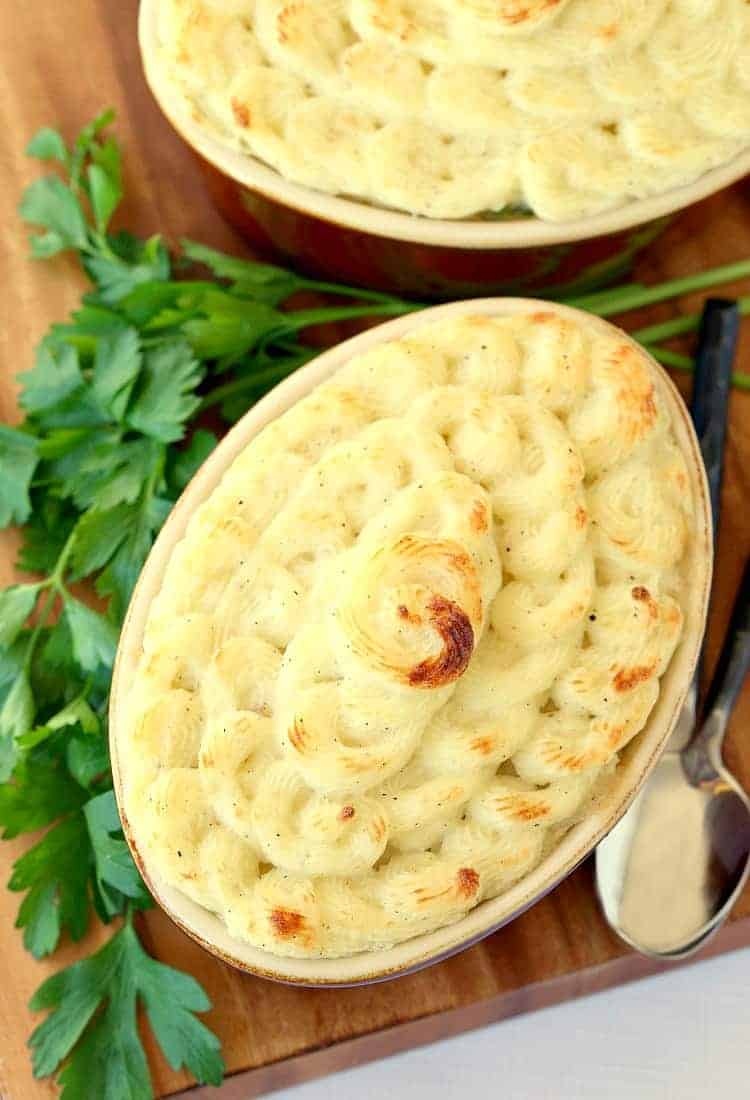 We did it. We survived another Thanksgiving holiday. All the food, all the preparation…all the cocktails. And all the eating.
Every year I say I'm not going to eat until I can't move and every year I'm wrong. It's just so good – all the food you wait all year to eat…that might be the key, right? Maybe make a turkey and some stuffing a month or so before Thanksgiving and then it won't be something you've waited all year for.
But then I guess I'd just eat until I couldn't move the month before.
You can't win. Just realize that it's going to happen and enjoy yourself.
Honestly though my favorite part about Thanksgiving is the few days after…when you have all the leftovers. We make turkey soup with the turkey bones, or ham soup if we made a ham too that year…and now we're adding this Leftover Turkey Shepherd's Pie to the list.
These are great too because you can add really ALL your leftovers in here – leftover mashed potatoes – check. Leftover vegetables – Check. Leftover gravy even – check.
Get it all in the filling, well except the mashed potatoes, they go on top.
Even if you have sweet potatoes, they'd work in here too! Or you could swap out the mashed potatoes and use leftover stuffing if that's what you have for the top, kind of like this skillet chicken pot pie recipe we made. So you get it, it's the perfect leftover recipe to use up all your leftovers!
Start by making the filling. Add some butter and onion to a large skillet, then peas and carrots (or this is where you're leftover vegetables could come in, just try and keep the amounts the same)
Add flour and cook for a minute, then pour in chicken stock, jarred gravy (or leftover homemade if you have it) and cream.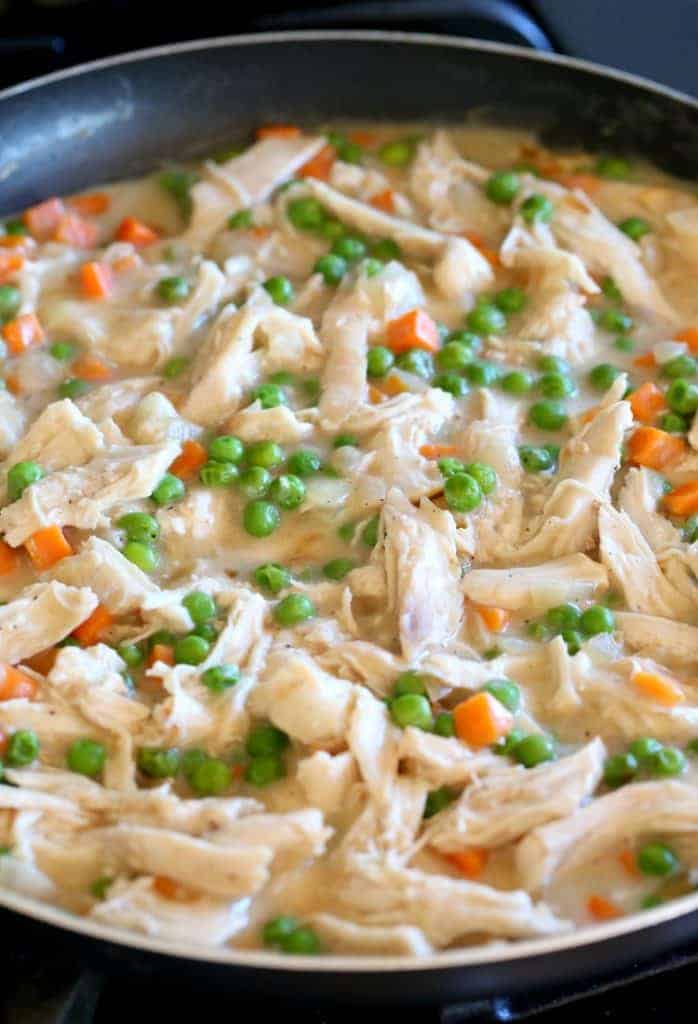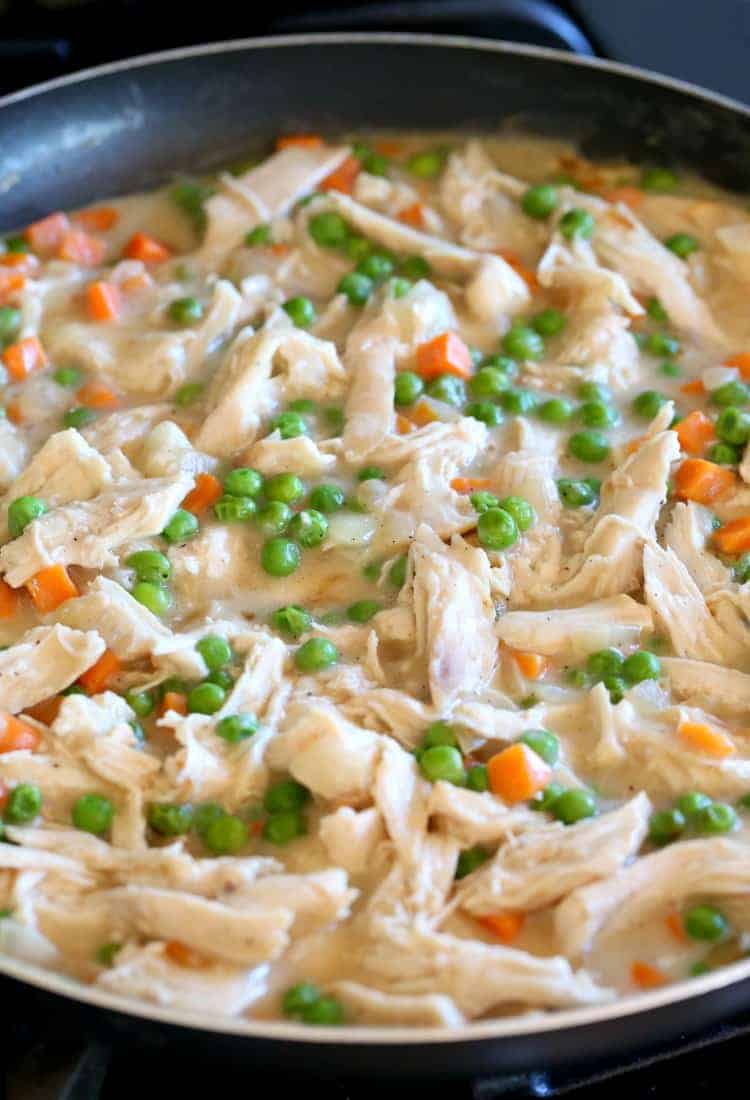 Stir in the leftover turkey and the filling for this Leftover Turkey Shepherd's Pie is done.
Now just add the filling to a baking dish or you can use individual crocks like we did, then top with the mashed potatoes.
Now it only has to go in the oven for about 15 minutes since everything is already cooked, then if you want you can put it under the broiler for 5 minutes to crisp up the top.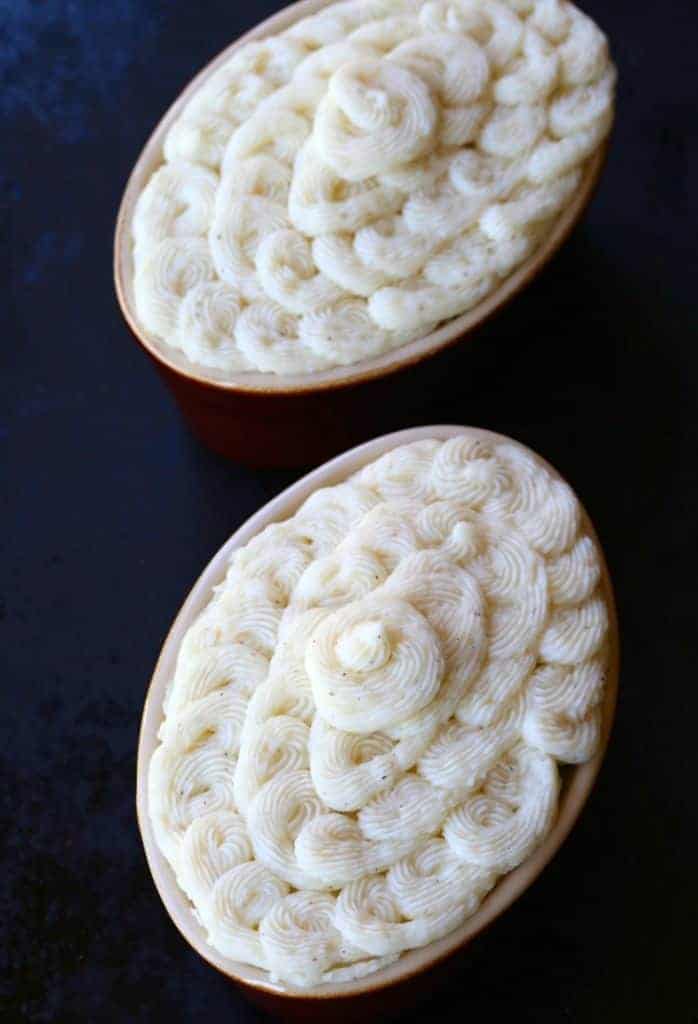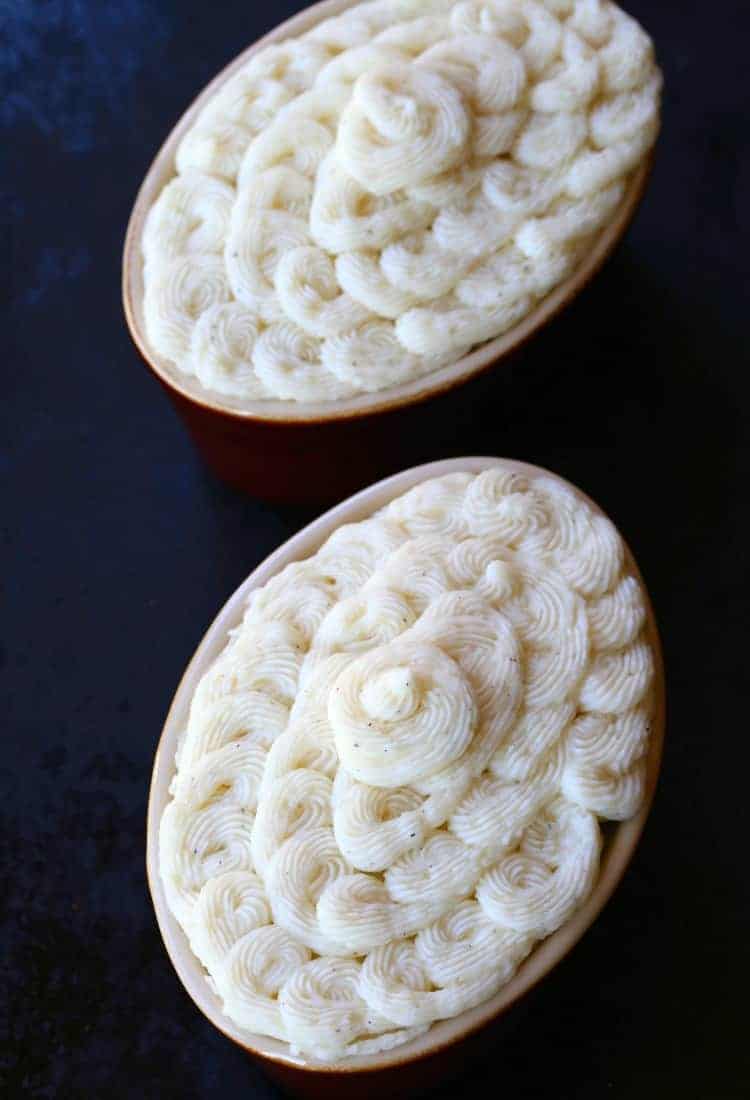 See that? Leftovers transformed.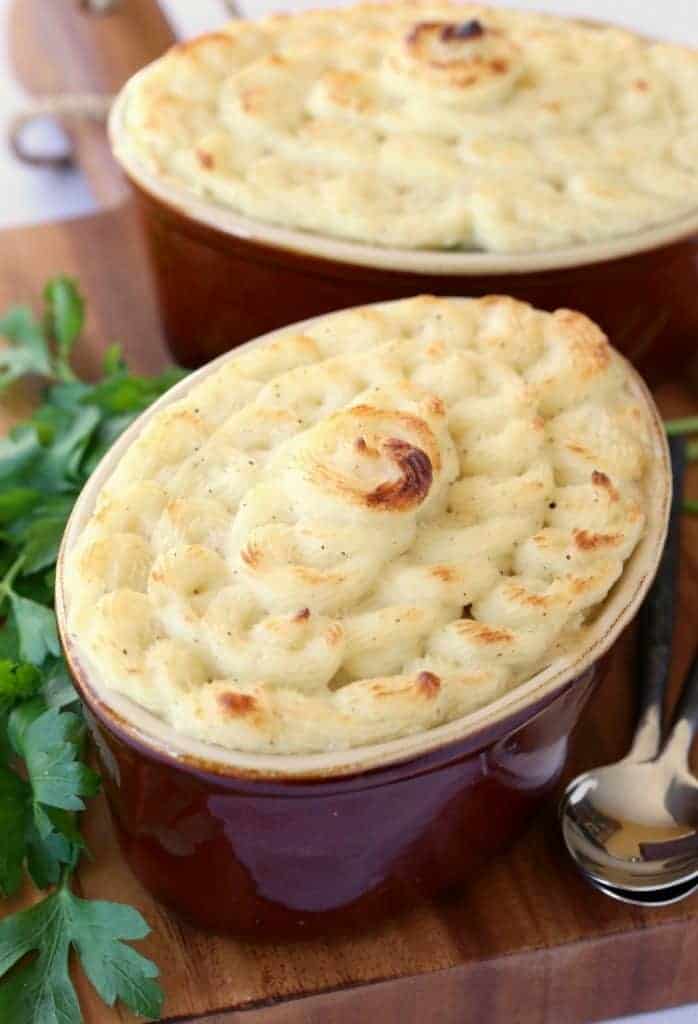 AND if you don't have any leftover turkey? Just grab a rotisserie chicken at the store and make this same recipe. My grocery store also has turkey breasts right there by the chicken so we get those a lot too.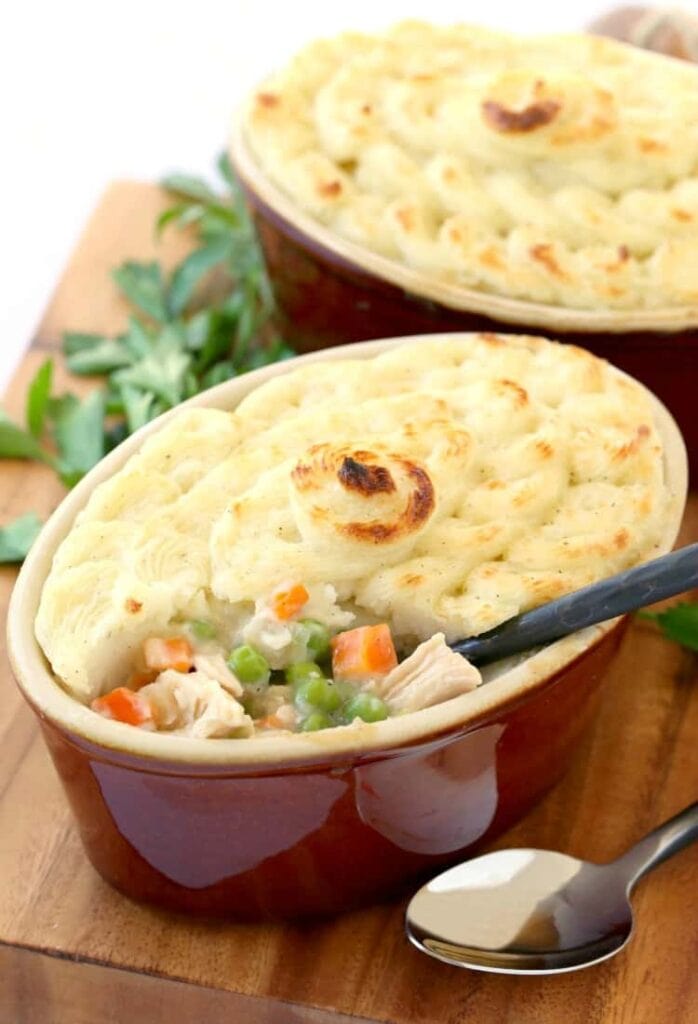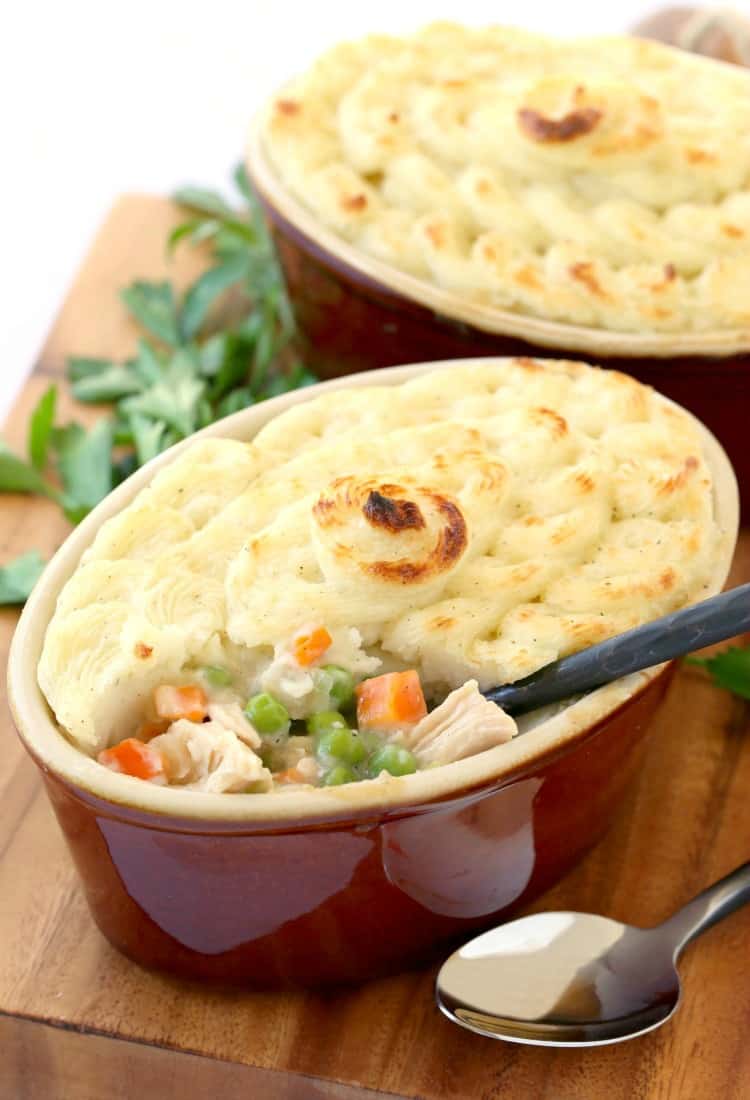 It's all about good food here – good food doesn't always take a long time to make and this recipe is a perfect example of that!
Print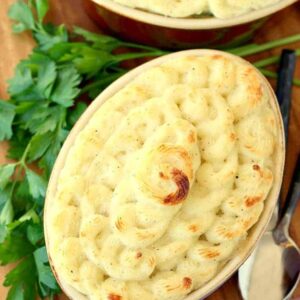 Leftover Turkey Shepherd's Pie
Author:

Yield:

4
---
Ingredients
3 cups leftover turkey
1 large onion, chopped
2 1/2 cups frozen peas and carrots
4 tablespoons butter
3 tablespoons flour
2 cups chicken broth
1/2 cup whole milk
1/2 jarred gravy (or leftover if you have it)
1 1/2 teaspoons salt
1/2 teaspoon black pepper
4 cups leftover mashed potatoes
---
Instructions
Add the butter to a large skillet over medium heat.
Add the onion and cook for 5 minutes until softened.
Next add the peas and carrots, stirring in with the onions.
Add the salt, pepper and flour. Stir and cook for 2 minutes then whisk in the chicken broth.
Once the mixture comes to a boil pour in the milk and gravy. Stir and cook for 2-3 minutes until thickened.
Taste for seasonings then stir in the cooked turkey.
Spoon the turkey mixture into a 2 quart baking dish then top with the mashed potatoes.
Cook for 15 minutes, then place under the broiler for 5 minutes if desired.