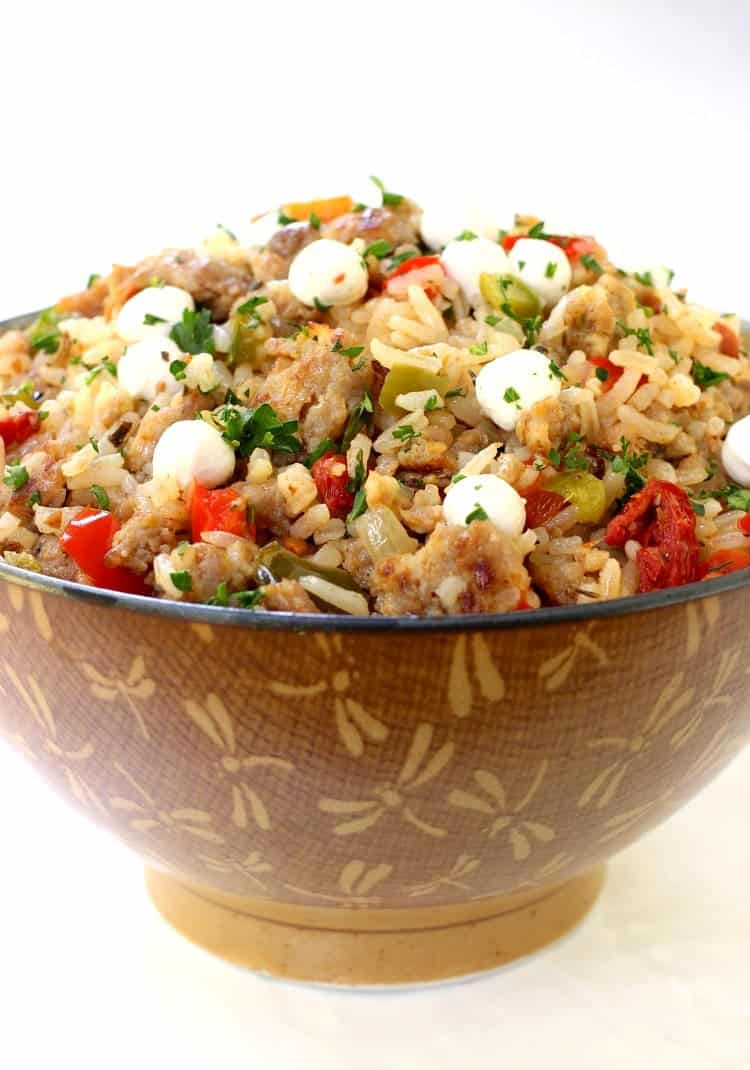 Italian Fried Rice is my twist on a traditional fried rice, done Italian style!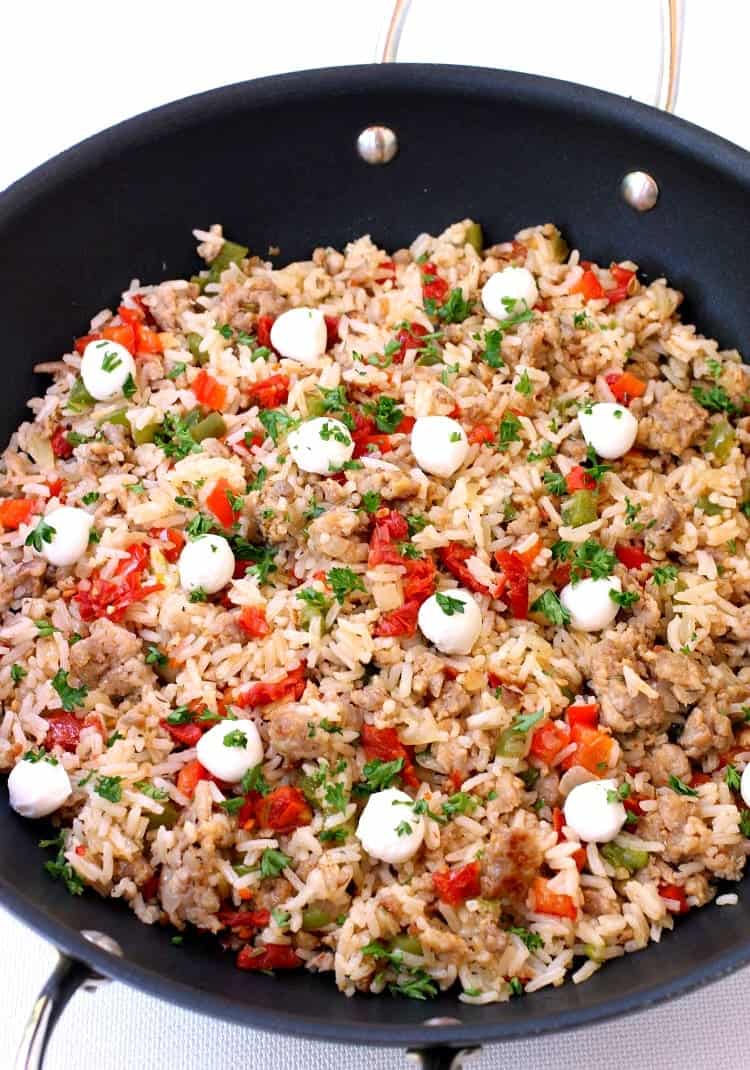 Sausage, peppers and onions is one of my favorite combinations of flavors and fried rice is one of our favorite, quick weeknight dinners to make – like this BBQ Pork Fried Rice or this Hibachi Pork Fried Rice…so we make it a lot.
What we're finding in the summer time here that we're not really doing  good job at making and serving actual meals. Summer is when we're supposed to relax a little, take things a little slower…
But that's not really happening for us.
There's still sports and trips to the lake, pools, family gatherings and then just times when the kids are outside playing or riding bikes and we can't seem to get them in the house for dinner.
And I guess we don't try to hard, right? I mean, it's summer, the weather is great and it's still light at 9:00 at night. But at some point we need to get at least one meal in…
One of the tricks we've figured out is making a bunch of food in the morning and having it in the fridge – at the ready. So when someone runs in to get a drink we can throw a plate of grilled chicken at them quick or maybe a bowl of this Italian Fried Rice.
I'm telling you now, this recipe is crazy, crazy good. I gave bowls out to a couple of neighbors to sample, random kids riding their bikes in front of my house…all gave the thumbs up.
The best way to make this Italian Fried Rice is to make the rice a couple hours ahead of time, let it cool and get it in the fridge. You don't want mushy fried rice – not good stuff. But when you cook the rice ahead of time and let it chill it comes out perfect every time.
The rest is easy, just browning the sausage, onions and peppers…adding a few seasonings and stirring in the sun dried tomatoes and mozzarella balls at the end.
Obviously you want to add that mozzarella in at the end otherwise you're going to have melted mozzarella in your rice. Unless that's the kind of thing you're looking for, then it's your call.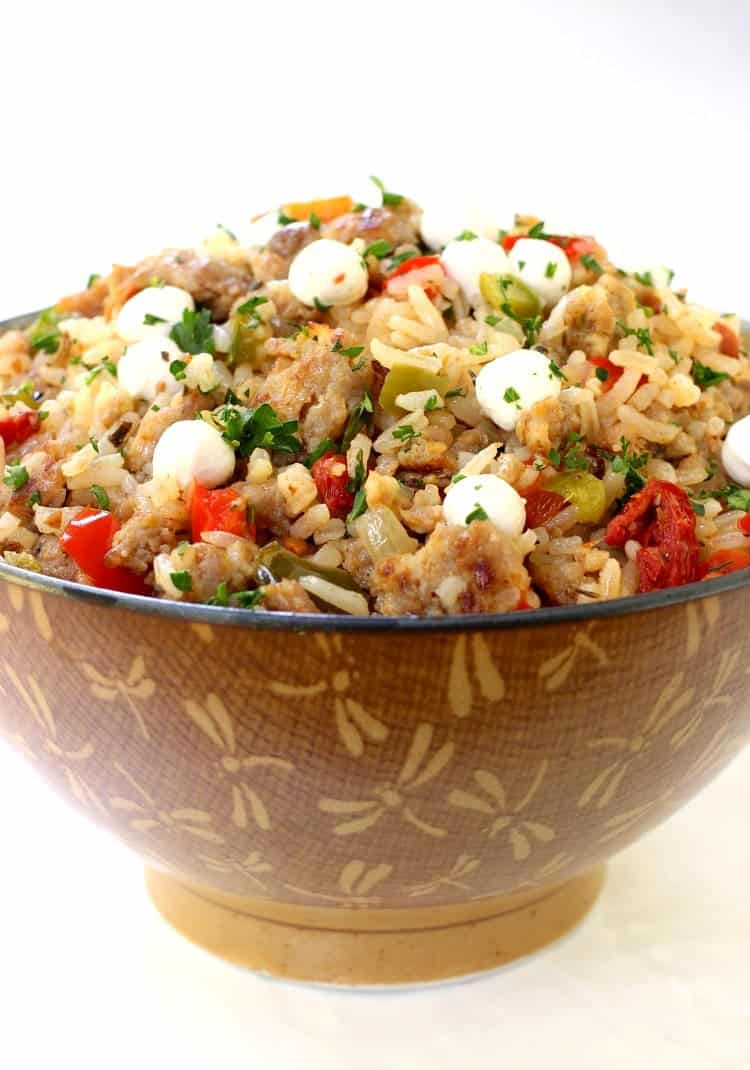 This recipe also makes a LOT of fried rice so it's perfect for dinner and then a few leftovers bowls the next day!
Print
Italian Fried Rice
Author:

Yield:

6
---
Ingredients
4 cups cooked white rice, cooled
1 tablespoon olive oil
1 lb. Italian sausage, casings removed
1 cup chopped red pepper
1 cup chopped green pepper
1 cup chopped onion
1 teaspoon salt
1 teaspoon dried oregano
1/2 teaspoon garlic powder
1/4 cup sun dried tomatoes, chopped
1/4 cup dry marsala wine
1 lb. fresh mozzarella balls (I used the smallest ones for this but any size will do)
Chopped parsley for garnish (optional)
---
Instructions
In a large skillet or wok, heat the oil over medium heat then add the sausage to brown.
Cook the sausage breaking up into pieces until browned through, then add in the onion, both peppers, salt, oregano and garlic powder.
Cook for 5 minutes until the onion and peppers are softened then add the rice.
Stir to combine the rice with the sausage and vegetables and cook for 3-4 minutes.
Pour in the marsala wine, stir, then add the sun dried tomatoes and mozzarella balls.
Stir once more to combine and serve.