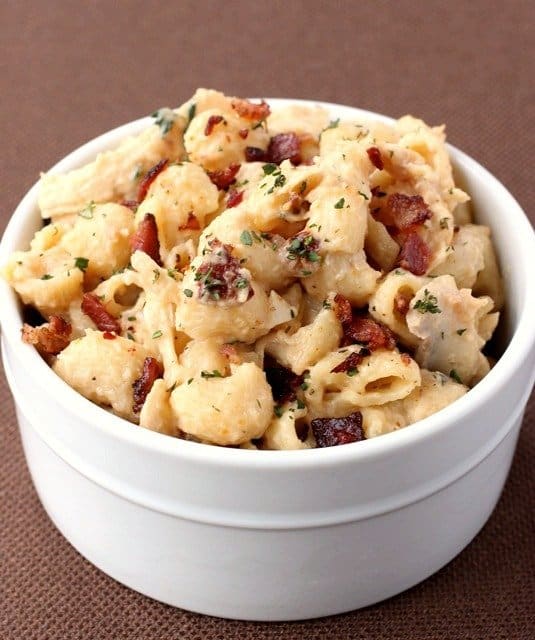 Chicken Marsala Mac and Cheese
This Chicken Marsala Mac and Cheese is my idea of what mac and cheese is all about! Creamy pasta with crispy pancetta, a dinner everyone will love!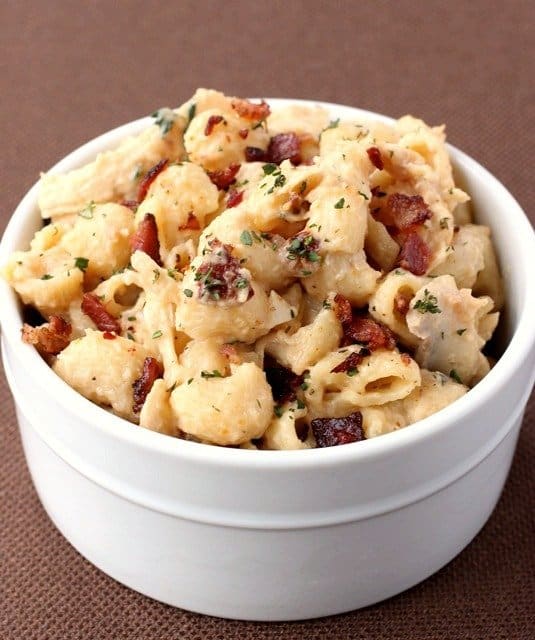 I love chicken marsala. It's definitely one of my favorite dinners so I like to try and work the flavors into other dishes like my Chicken Marsala Alfredo that I did a while back. This is similar to that – but in macaroni and cheese form.
This Chicken Marsala Mac and Cheese takes a little time to put together but I can tell you that it's worth it. And it feeds a crowd – at least 6 if not 8 people. Especially if you're serving it with a side salad and bread.
You can use rotisserie chicken to speed this up a little, or roast off a few chicken breasts in the oven for 20-25 minutes and then shred them into big bite-sized pieces.
Boil up a pound of pasta, I really like a cut called pipette but you can use whatever short tube pasta shape you like.
Start off the sauce by melting a few tablespoons of butter in a large pot. Add in sliced mushrooms and some salt and pepper and cook the mushrooms until they are browned, about 10 minutes.
Next you're going to add in some onion and garlic, cook that up a few minutes and then throw in some flour.
Stir the flour and the mushroom mixture until it's all well coated and then let it cook while stirring for about 5 minutes. You're pot will turn pretty brown like this…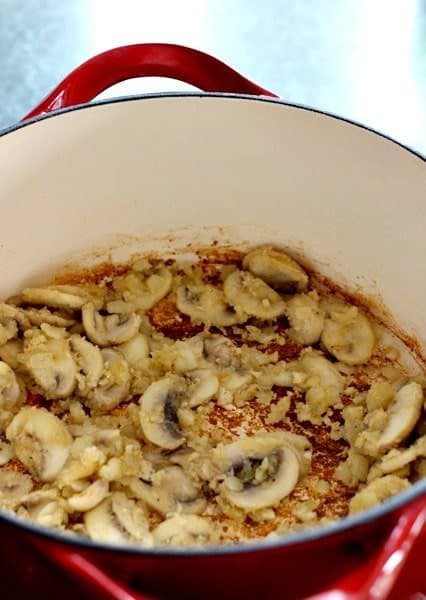 Then add marsala wine to deglaze the pan, scraping up all the brown stuff off the bottom as the wine cooks down.
Pour in some milk and whisk it together so there's no lumps from the flour and then let it simmer for 10 minutes.
Add in shredded muenster cheese, dijon mustard and the worcestershire sauce.
All that's left to do is add your cooked pasta and the shredded chicken.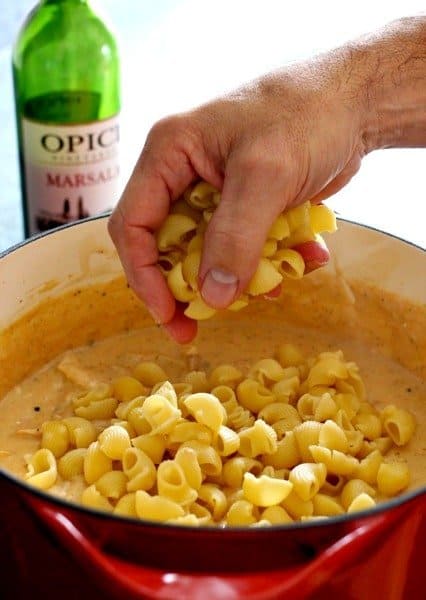 Taste it again for seasoning and then add in a bunch of crispy pancetta.
And now for the big taste test…serve it up to the boys for dinner. Not everything we make goes over good but this one was a hit. They both loved it.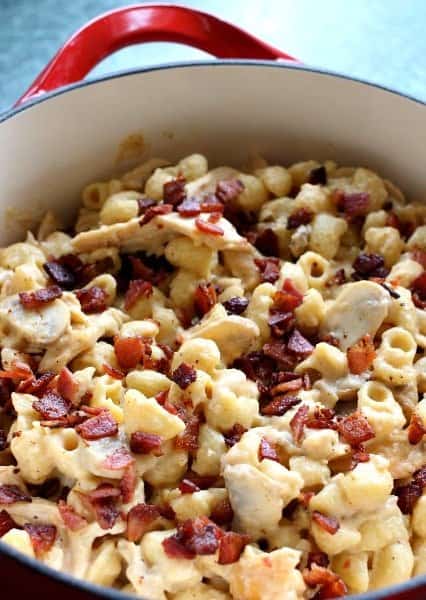 In addition to being one of my favorite dinners, my little guy actually said it was the best macaroni and cheese he ever had. Now I'm not sure what we're going to do with all the store-bought blue boxes of mac and cheese.
I hope this Chicken Marsala Mac and Cheese becomes one of your families favorites too!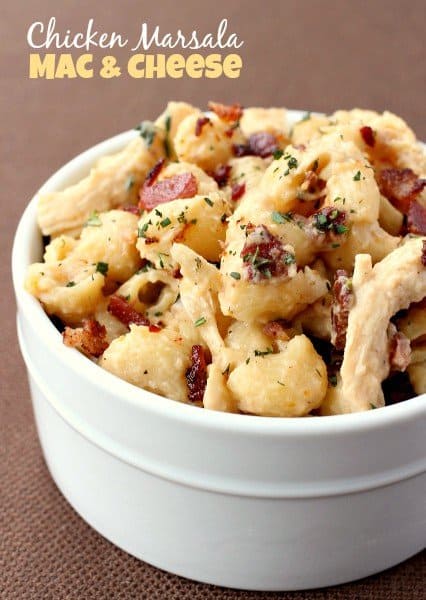 Print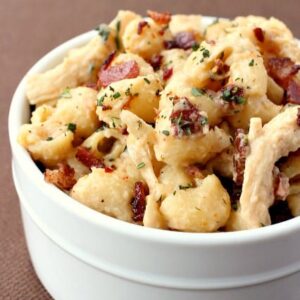 Chicken Marsala Mac and Cheese
---
Ingredients
3/4 lb. boneless, skinless chicken breasts (you can substitute rotisserie chicken)
1 lb. pipette noodles, or any short-tube pasta you like
10 oz. mushrooms, sliced
3 cloves garlic, minced
1/2 c. onion, chopped
1/2 t. garlic powder
3 1/2 c. whole milk
1/3 c. flour
1/2 c. marsala wine plus 2 T., separated
4 oz. pancetta, diced and cooked until crispy and drained of any grease
4 c. muenster cheese, shredded
4 T. butter
1 t. salt
1/2 t. fresh ground black pepper
1 T. fresh thyme, stemmed and chopped
1 t. dijon mustard
1 t. worcestershire sauce
---
Instructions
Season the chicken breasts with salt and pepper, drizzle with olive oil and roast in the oven for 15-20 minutes at 400 degrees until no longer pink inside.
When cool enough, shred the chicken into bite-sized pieces.
While the chicken is cooking, start a large pot of water to boil and cook your pasta for 8 minutes, just a little under cooked.
Drain the pasta and set aside.
In a large pot, melt the butter and add the sliced mushrooms.
Cook for 7-8 minutes, then add the onion and garlic.
Add the flour to the pan and stir for 3-4 minutes until he flour has cooked out.
Pour in the marsala wine and scrape up the browned parts on the bottom of the pan.
Add in the milk, whisking while pouring.
Whisk the mixture well and simmer for 10 minutes until thickened.
Next add in the salt, pepper, garlic powder, mustard, worcestershire sauce and fresh thyme.
Add the cheese to the pot by handfuls, stirring after each time to make sure the cheese is blended into the sauce well.
Then start adding in the shredded chicken and your cooked pasta.
Pour in the 2 extra tablespoons of marsala and stir once more.
Stir until the chicken and pasta are well incorporated into the sauce and then top with the crispy pancetta.