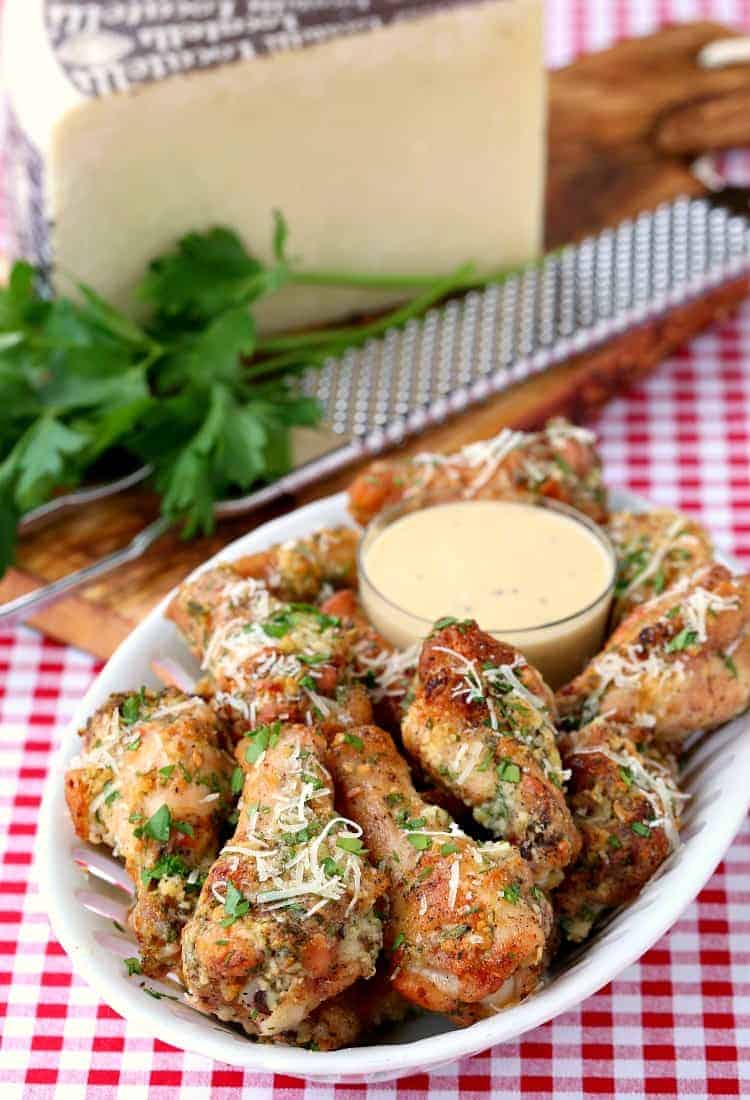 Baked Garlic Parmesan Chicken Wings
This Baked Garlic Parmesan Chicken Wings recipe is going to blow you away! No need to run out for wings, just whip a few pounds of these up and dig in!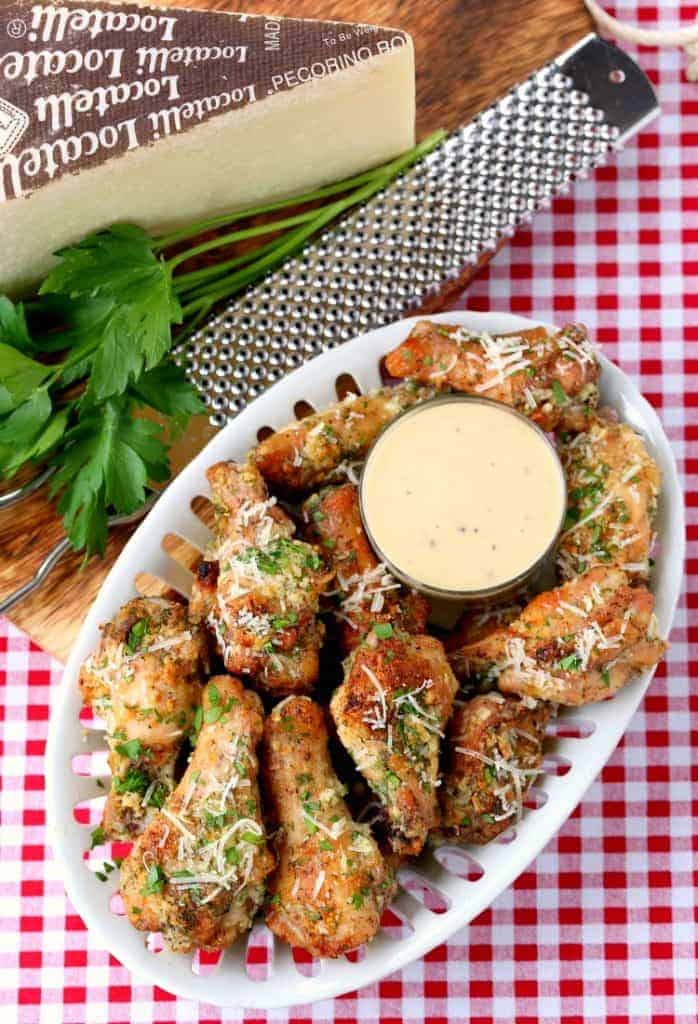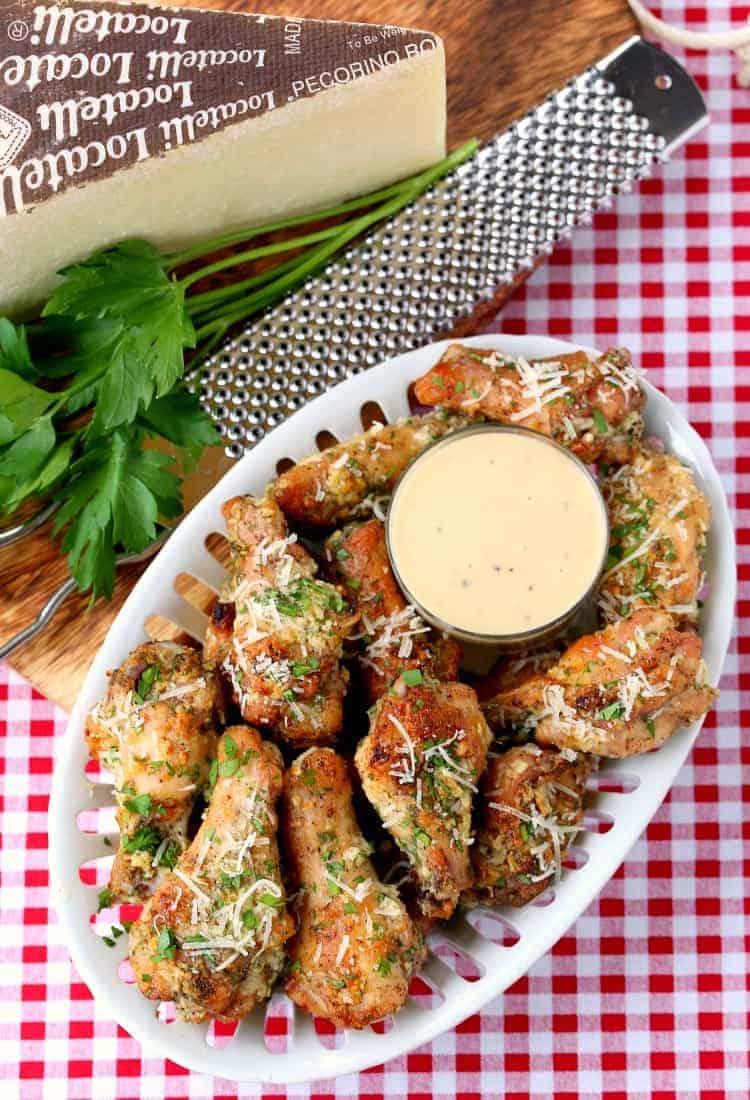 OK I'm going to say that yes, these wings are baked. Not fried.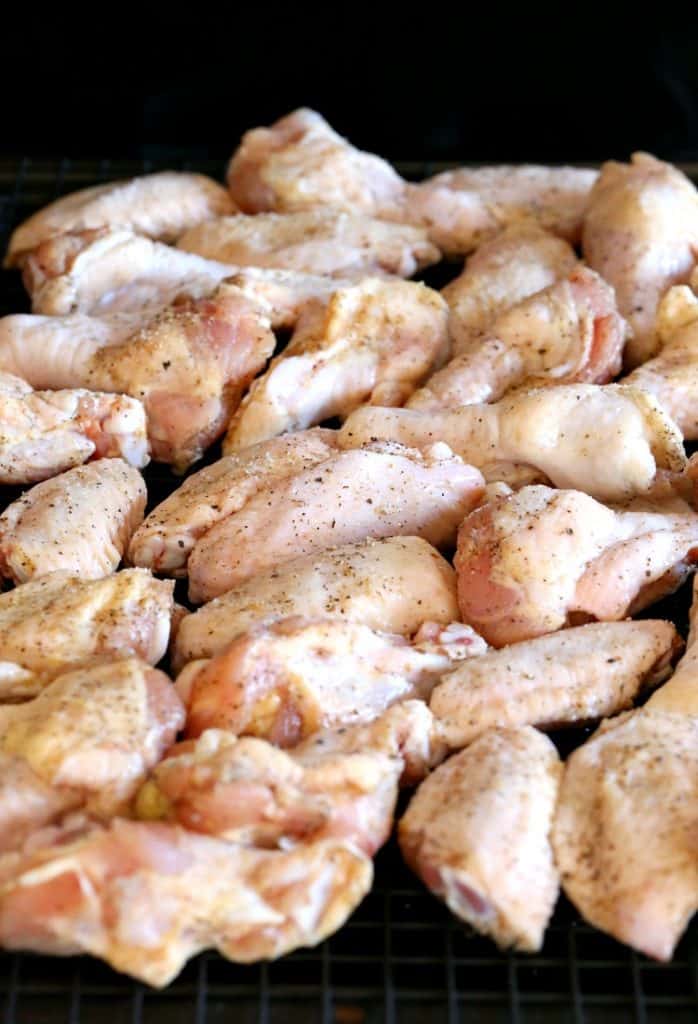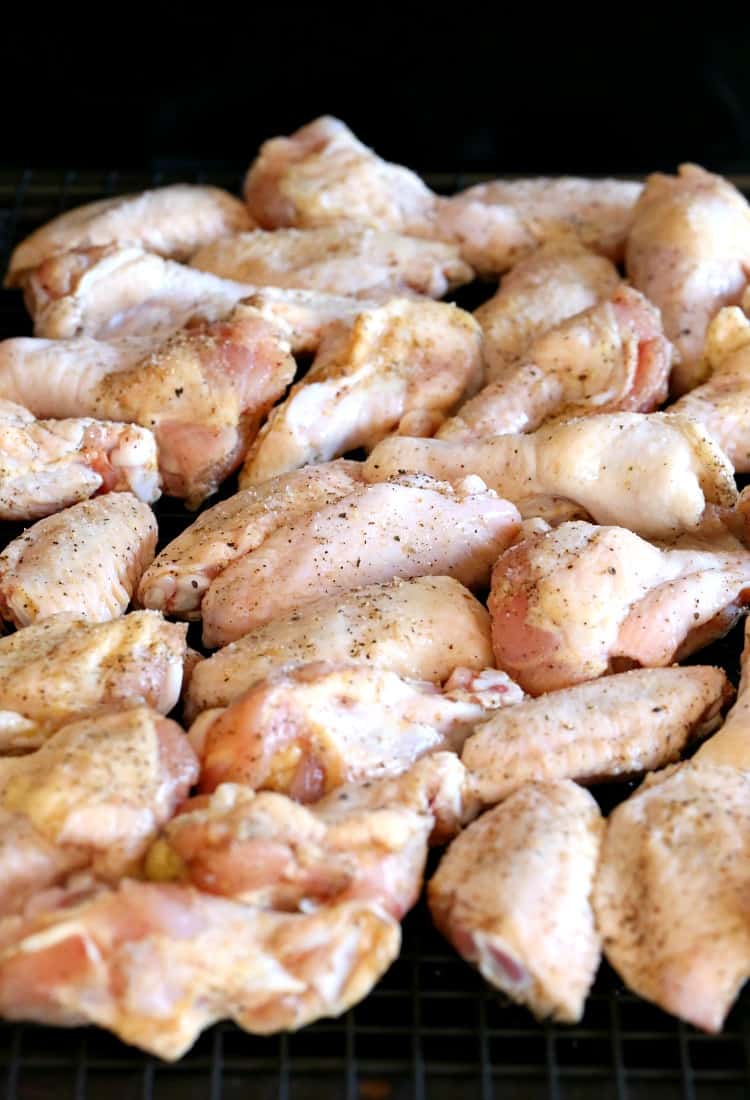 But that's where it ends.
The sauce on these Baked Garlic Parmesan Chicken Wings is literally made up of butter. Melted butter, parmesan cheese and mayonnaise.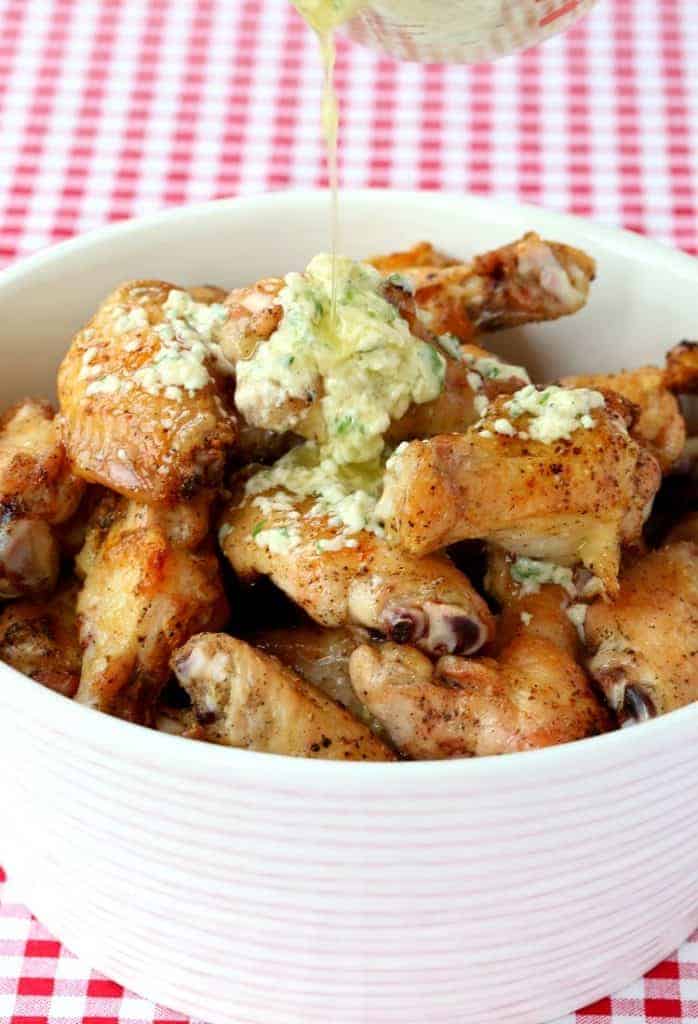 I mean, fat on top of fat on top of fat.
And that's why these wings taste so damn good. I'm telling you, you won't be able to eat just a few…you're going to keep grabbing for more after each one.
So I guess the good thing is that if you follow a low carb diet these are the wings for you. Epic tasting, even better than the ones from that popular buffalo wing place…and practically zero carbs.
So eat up.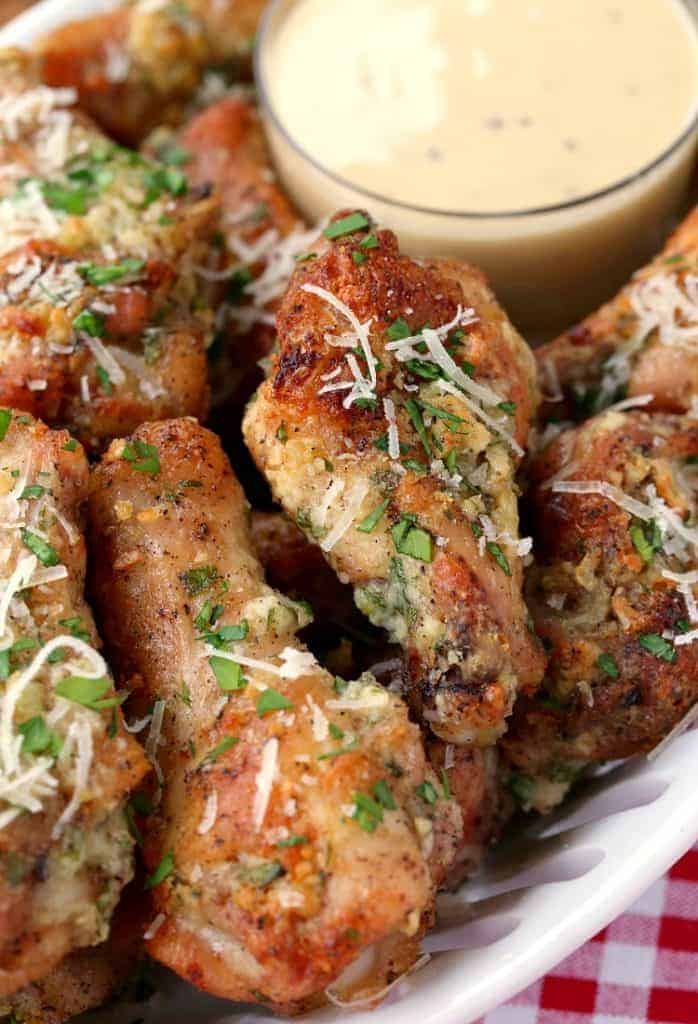 We make a lot of different kids of wings at home, some baked and some fried. These Nacho Chicken Wings  and these Sticky Hoisin Chicken Wings are a delicious baked recipes but sometimes you gotta go for the deep fry like this Whiskey Wings recipe or my other favorite, Salt and Vinegar Wings.
I think I might jump on the low carb bandwagon just so I can sit down and eat wings all weekend without blowing my diet. Any diet that I can eat these Baked Garlic Parmesan Chicken Wings on…I'm in 100 percent.
When you go to start to make these wings, you might look at the recipe and say – 6 pounds of wings??? Yes, 6 pounds of wings.
Of course you can cut the recipe in half, but you'll be sorry if you do.
These wings are great cold from the fridge or heated up the next day if you actually have any leftover. Just me and my boys can knock most of these back…I know that's sort of revealing as to how much we eat but it's the truth.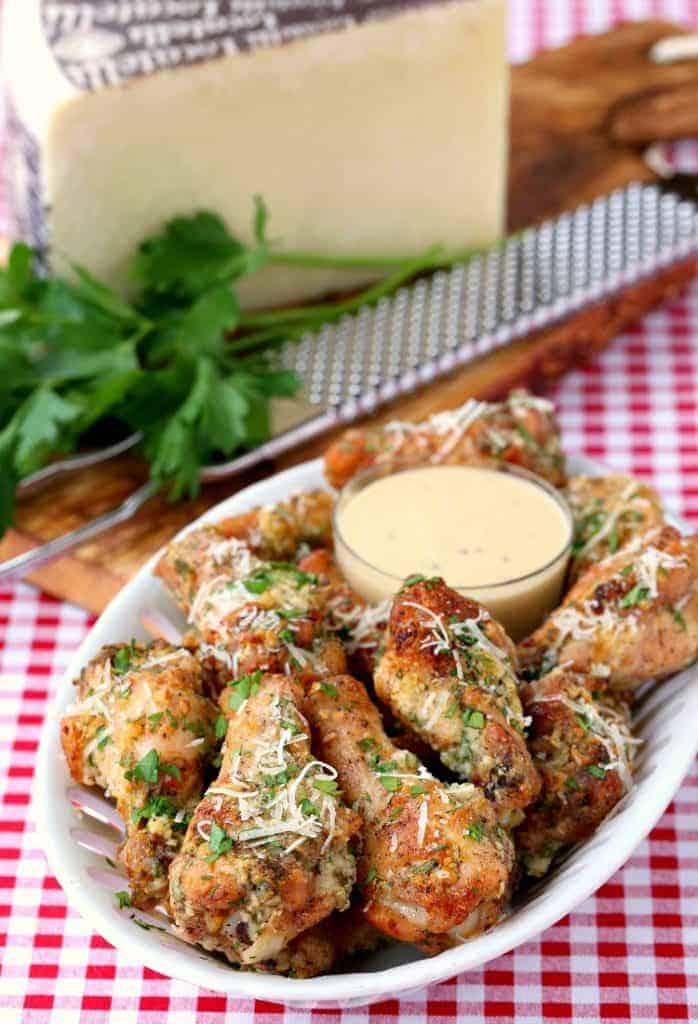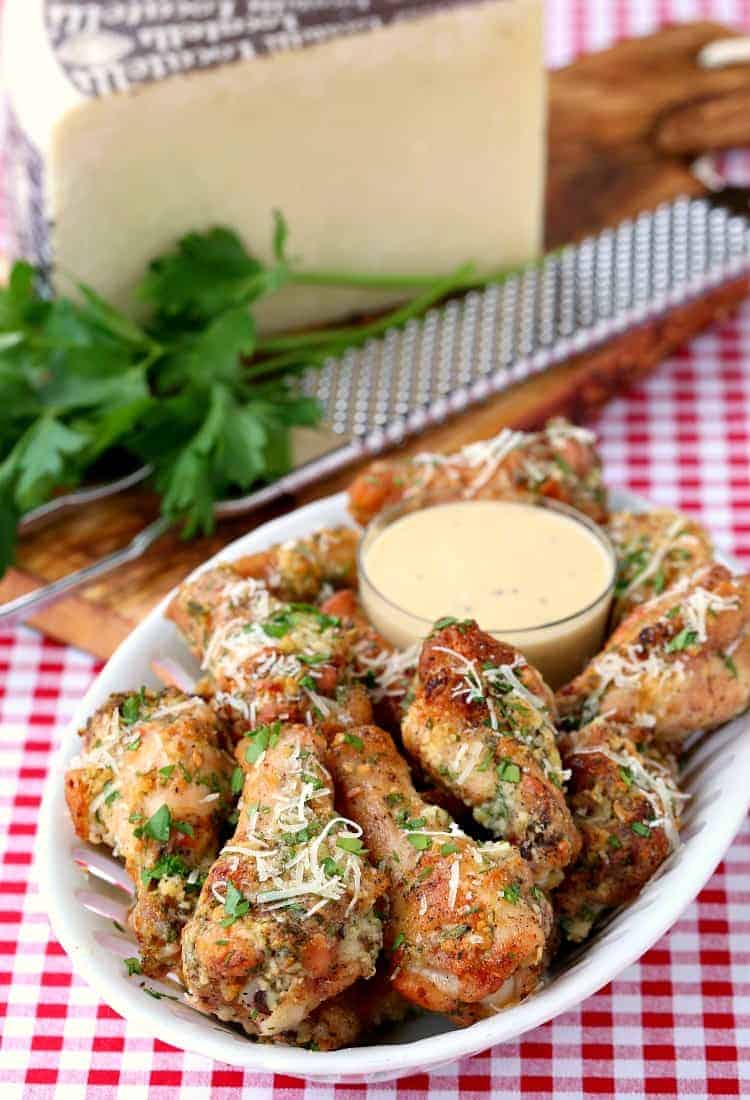 And if you're making these for party appetizers you aren't going to go wrong with the 6 pounds.
Trust me.
Just like when we make our other favorite wings…check the recipe out here!
Now, the only other thing we have to talk about here is how you like your garlic parmesan wings…if you like them like how they serve them at Buffalo Wild Wings, super saucy, then you're going to bake these wings and toss them in the sauce and serve.
If you like them a little less saucy with the sauce more baked on then you're going to bake them, toss them in the sauce and then bake them again.
That's how we like them – baked again- but it's totally up to you.
We did snack on a few of these wings all sauced up before we put them back in the oven and we loved them, but I like to go for one more bake.
Let's get started by seasoning the wings with salt, pepper and garlic powder.
Bake them for a half an hour then take them out to toss them in the garlic-parmesan-butter-mayo-sauce.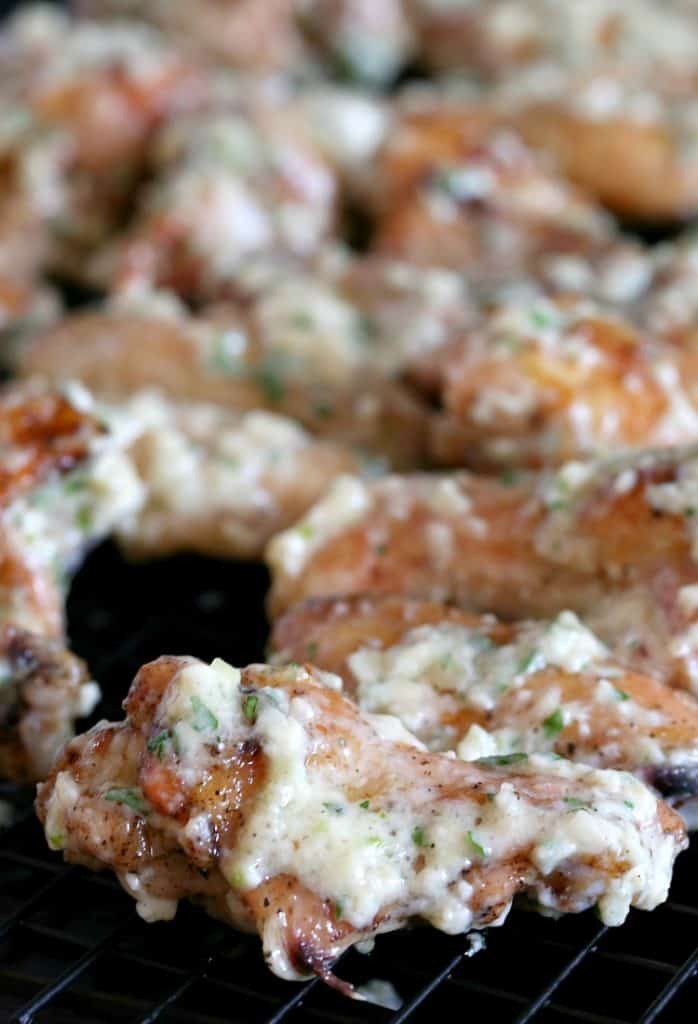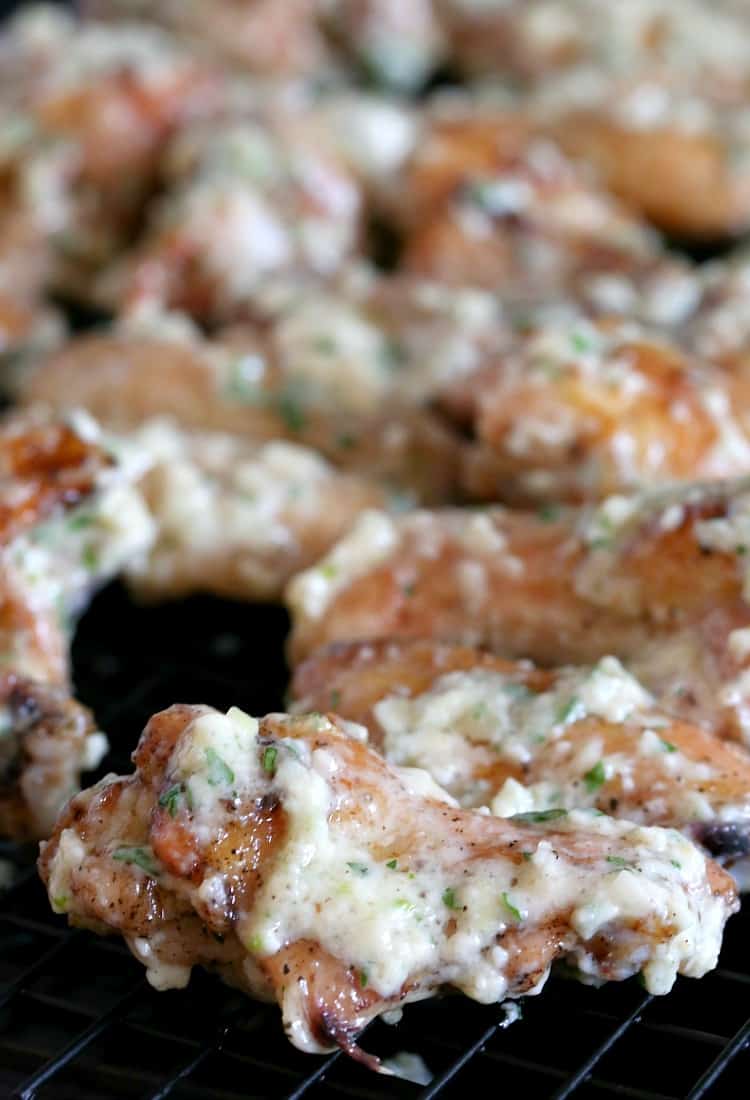 Now it's like we talked about, serve as is or back in the oven for a few minutes…if you can wait that long to eat them. Maybe grab a couple off the sheet pan for snacking on while they bake for a second time.
We don't want you to go hungry or anything.
Now just add some more parmesan cheese and chopped parsley for garnish and get them on a plate.
Whether you're serving these Baked Garlic Parmesan Chicken Wings for appetizers or a fun dinner at home, they are without a doubt going to be a monster hit!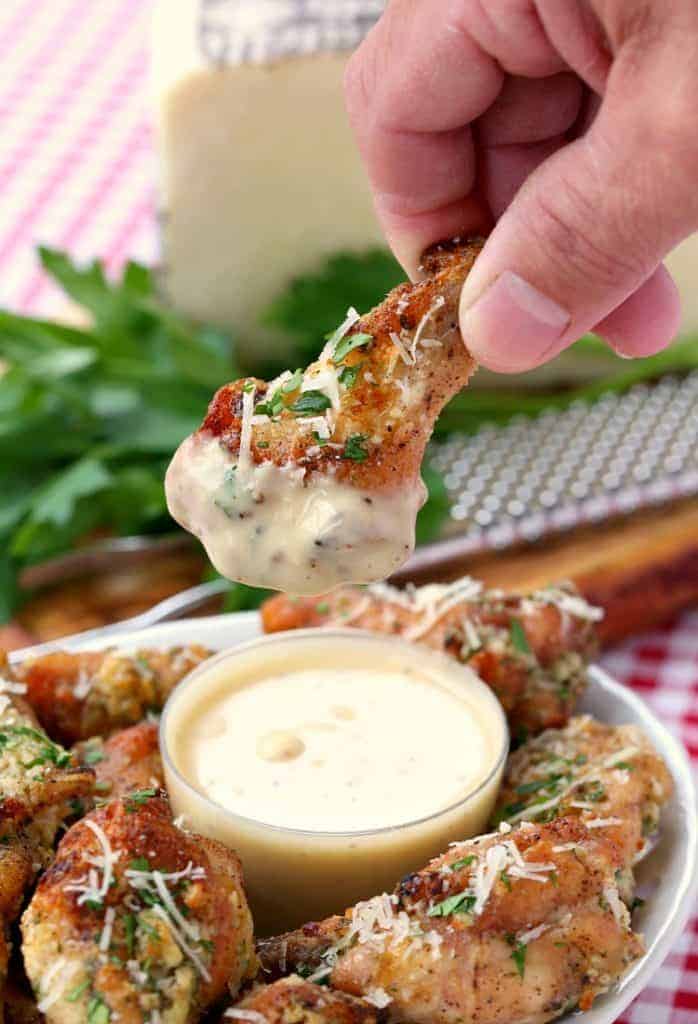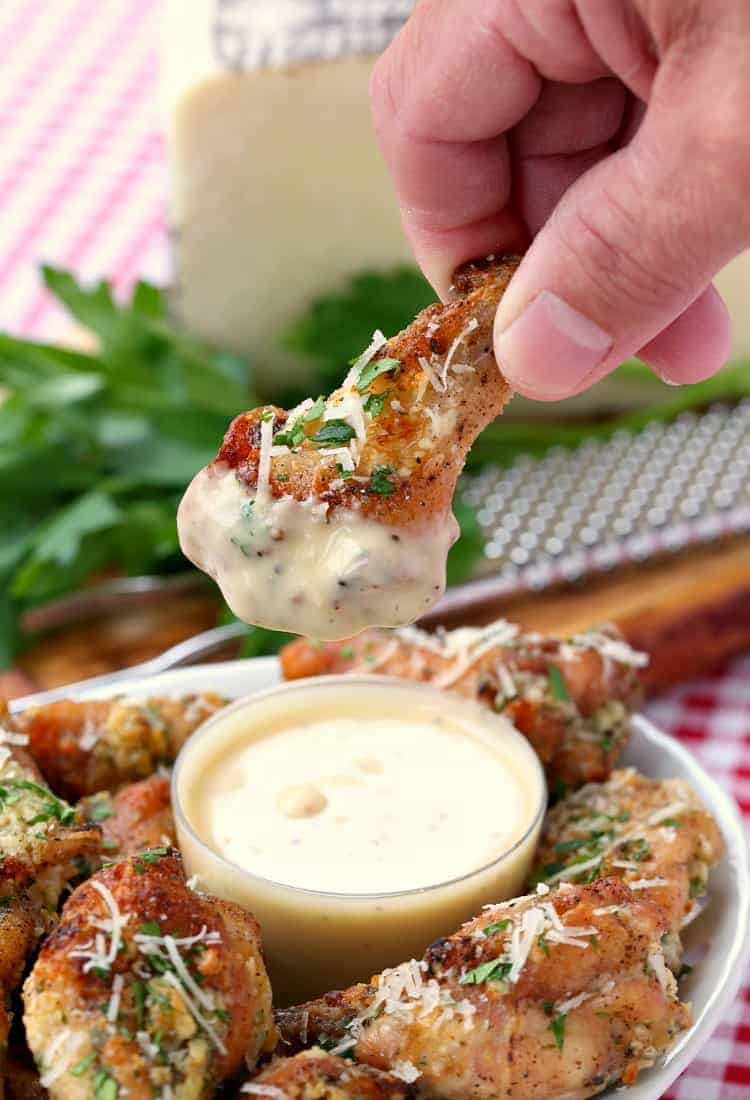 Just a few steps and you'll be on your way to wing night at your house!
Print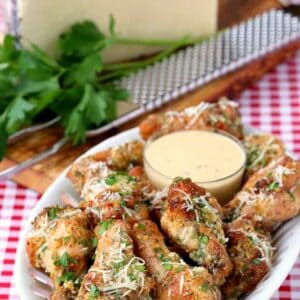 Baked Garlic Parmesan Chicken Wings
---
Description
serves 8 for appetizers, 6 for dinner
---
Ingredients
6 lbs. chicken wings
1 1/2 tablespoons kosher salt
1 1/2 teaspoons ground black pepper
1 1/2 teaspoons garlic powder
Caesar dressing on the side for dipping
For the Sauce
2 sticks of butter, melted and cooled
2 tablespoons chopped garlic
3/4 cup grated parmesan cheese, plus more for topping
1/2 cup mayonnaise
1 teaspoon salt
1/2 teaspoon black ground pepper
2 tablespoons chopped parsley
---
Instructions
Preheat the oven to 425 degrees.
Season the wings with the salt, pepper and garlic powder and place on a rack on top of a baking sheet covered with foil.
Bake the wings for 35-40 minutes.
While the wings are baking start the sauce by adding all of the ingredients to a bowl and whisking together. The butter will separate a little as it sits, that's ok, just whisk it together again before you toss the wings.
Once the wings are done, add them to the bowl with the sauce.
Place the wings back on the rack and bake again for 8-10 minutes.
Garnish with more chopped parsley and shredded parmesan cheese, then serve with caesar dressing on the side for dipping.
Shop This Recipe!